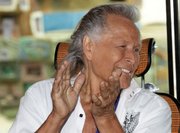 By LAMECH JOHNSON
Tribune Staff Reporter
ljohnson@tribunemedia.net
THE Court of Appeal has set a date for multi-millionaire Peter Nygard's appeal against a judge's finding that he was guilty of contempt for disobeying an order pending the hearing of a civil matter involving himself and his billionaire neighbour, Louis Bacon.
Mr Bacon is the owner of Point House Corporation, the respondent in this contempt appeal that stems from a legal battle between the two men involving a property right of way.
Yesterday, Nygard's attorney, Brian Moree, QC, asked appellate court judges to allow the appeal considering that his client and the respondent were reaching an agreement involving the issue in dispute.
Mr Moree further noted that his client did not wish to have the matter hanging over his head and that the respondent had offered no opposition to the appeal filed by Mr Nygard.
However, Justices Anita Allen, Christopher Blackman and Stanley John were of the view that simply allowing the appeal would be declaring that the judge was wrong in his finding.
Mr Moree argued that the underlying issues concerning the contempt matter were private. The judges replied that the matter became public when Nygard was found guilty of contempt by the Supreme Court.
In light of the court's view on that the best course was for the appeal to be argued in a substantive hearing, Mr Moree requested an adjournment to a week's time, considering the case's importance.
The request was not objected to by Robert Adams. The court granted the request and adjourned the matter to November 29.
Last October, Justice Stephen Isaacs found Nygard guilty of contempt ordered that Nygard be committed to Her Majesty's Prison for 30 days.
The imprisonment would not be enforced on the conditions that Nygard provides "proof that he has paid a fine of $50,000 to the Public Treasury within 14 days of today's date and he liquidates the restoration expenses incurred by Point House within 14 days of the presentation of the bill, vouched by invoices, for same," the judge said.
Should Nygard fail to comply with the court order, said the judge, "and thereby purge his contempt within the times specified, he shall stand committed to the said prison for a term of 30 days and a Warrant of Committal will be issued accordingly."
Costs of the contempt application was awarded to Point House to be taxed, if an agreement between the two parties could not be reached.
The Canadian fashion designer filed his appeal of the ruling 10 days later, four days before the end of the two-week deadline.