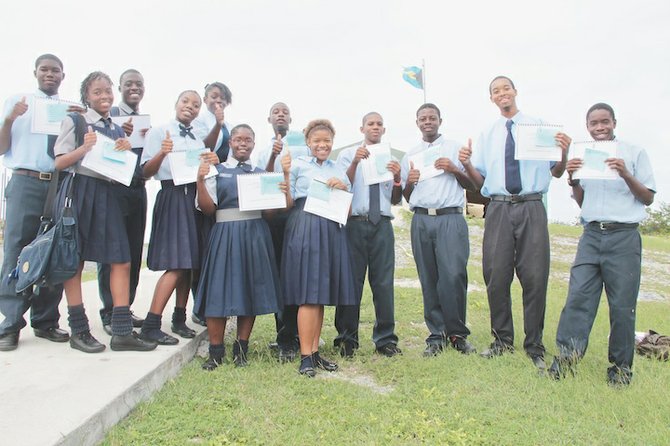 THE government has spent more than $4 million to upgrade technology in schools throughout the Bahamas according to Education, Science and Technology Minister Jerome Fitzgerald.
He advised students enrolled in the Future Teachers of the Bahamas programme that their careers will be technology intensive and said they should become adept at learning how to design lesson plans on a computer.
"The knowledge that we have at our disposal tells us that the education systems as it exists today will be heavily driven through technology," said Mr Fitzgerald. "Whether students attend public or private schools they will be heavily engaged through technology.
"Teachers today must be able to embrace this teaching tool and use it to guide impressionable minds into self-discovery. Already we are seeing that technology will be a major factor in learning over the next seven years by the time you graduate from university."
Mr Fitzgerald addressed the 115 students from public and private schools throughout New Providence and the Family Islands who were installed in the programme on November 15 during a ceremony at Kingdom Life Church. The students also received certificates and pins signifying their induction into the group.
The theme for the event was "Cultivating a Culture of Quality among Future Educators".
Parents, teachers and school administrators were among those in attendance.
Mr Fitzgerald told the students to consider the following as they prepare for a career in teaching:
• Great faith in God.
• Determination to do their best.
• Willingness to assist students and colleagues.
• Empathy.
• Accountability to their peers, administrators and students.
• A road map for excellence.
• Becoming a life-long learner.
He noted that the role of teachers has changed.
"You are required to be a mother, father, counsellor, advisor and all of the things that will be required of you. Of course you have to be dedicated in a profession that is not the highest paid profession at all. In fact, there is room for a lot of improvement," he said.
If "excellence" is developed in the Future Teachers programme then it is safe to assume that teachers who move on to the College of the Bahamas will be the "best of the best," the minister said.
"These three years enrolled in the programme are critical in the transformation of the educational system. This transformation will require teachers to have exceptional leadership programmes, to be role models in the classroom. The primary goal will be empowering students through education," he said.
He challenged the future teachers to hone their teaching skills now by assisting peers who are experiencing challenges in school.
He congratulated the students for making the decision to become teachers and for enrolling in the programme.
The three-year Future Teachers programme was introduced in 1995 to expose students to the teaching profession. Approximately 2,500 students have passed through the programme since its inception.