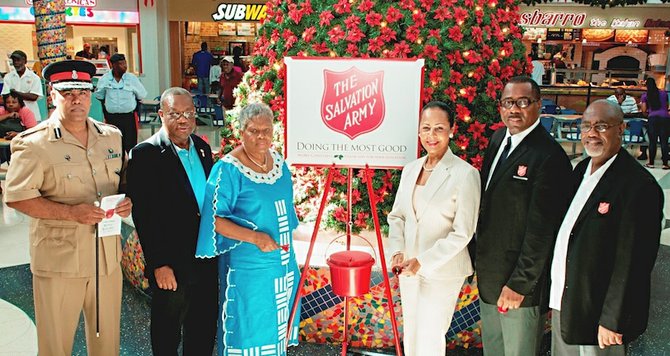 IT'S beginning to look a lot like Christmas – trees wrapped in lights, hanging wreaths, garlands and bows are already starting to dot the town.
Another sight that has come to signify the holiday season are the Salvation Army's huge red brass kettles, accompanied by the sound of bells rung by cheerful volunteers who beckon to passers-by to make a little noise of their own by dropping coins in the tin and spreading good will and cheer.
This year's kettle drive was officially launched during a ceremony at the Mall at Marathon to the melodious sounds of the St Anne's School Choir and the Royal Bahamas Police Force Pop Band.
Bernadette Christie, wife of Prime Minister Perry Christie, rang the first bell and made the first donation.
Over the next month, red kettles will be distributed to 30 businesses around New Providence.
On Saturdays, volunteers from service and civic clubs in Nassau will accept responsibility for manning the kettles. "Friendly competition" among these groups is high as the group raising the most money is recognised during the Bell-Ringers' Appreciation Lunch at the culmination of the programme.
"Each year, we appeal to persons, usually caught up in the hustle and bustle of the holiday season making last minute purchases, to dig a little deeper in their pocket and purses which goes a long way to assist us in our mandate of meeting human need without discrimination," said Major Lester Ferguson, divisional commander of the Salvation Army.
"We have seen an increase in persons, young and old, requiring food assistance. While the majority of us will be enjoying lavish Christmas dinners with all the fixings, there will be many among us who will have no holiday at all. These funds will be used in The Army's Christmas and ongoing welfare and community services."
With donations received during last year's Christmas season, the Salvation Army provided more than 5,120 individuals with meals, grocery baskets, food vouchers, toys and personal care kits.
And because the needs are so great, Major Ferguson expects that number to increase significantly this year.
"Firstly, I wish to thank all who have donated to the Army's Kettle drive in the past and encourage your continued support as we are unable to provide the service without you. For those who have yet to give, no amount is too small. Let's make this 2013 annual drive a record breaker, in terms of funds received, and one for the books," he said.