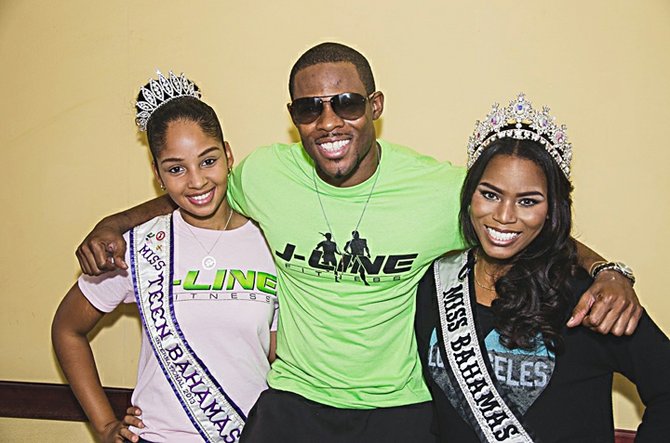 By ALESHA CADET
Tribune Features Reporter
acadet@tribunemedia.net
THE J LINE Fitness Bahamas team recently celebrated natural health, fitness and wellness at their first annual "Electric Festival."
The event held at the J Line grounds on Shirley Street featured live performances by Bahamian singer and performer, Julien "Believe" Thompson, the J Line dancers and many more.
Festival-goers were invited to enjoy free wine and drink tastings, giveaways, food, art and games, as well as take part in free fitness classes, club memberships and health screenings.
The J Line members turned out in full force in their highlighted green coloured J Line T Shirts. From educating Bahamians on proper food intake to fitness opportunities, they were there to help everyone who came through the doors.
Jennifer Godet, Director of J Line Fitness, said they decided to team up with Julien for a live concert on the J Line grounds because Julien and his team are trying to convey the importance of health for the Bahamian public through dancing, fitness and movement.
"We invited them to team up with J Line to get themselves healthy and to promote health throughout the Bahamas," she said.
In an interview with Tribune Health, Julien said he didn't think twice about being apart of the event.
"It is all about health, fitness, getting in shape and showcasing different foods. You can get pressure screenings here and speak to people who are here to educate you on how to stay in shape. We have diabetes, cancer and all of these diseases and even though we cannot eliminate them, we can do things that prohibit them from taking over our bodies sooner," said Julien.
Julien said his connection with J Line began in September when he and his Believe Network, hosted their first "Believe In Yourself" dance battle.
The event held at the Kendal G L Issacs Gym, showcased dancers from throughout the country, as they competed for cash prizes and awards.
"At the event, J Line decided they would take an interest in being a part of that venture with us. So we was like 'let's come together to help one another.'
"After our event we all just sat down and spoke about how we can work together. They told me they know I dance and sing, but they also said I needed to get my body together and in shape," said Julien.
Julien said his trainers Paul Wilson and Jeremy Sawyer, from J Line Fitness, have been working him hard but he is fortunate to have worked with them.
Mr Wilson said as a trainer, he would always tell his clients that they can work out as hard as they want, but that is only 10 per cent of their 'pie chart'.
Seventy per cent, he said, is what you take in, so if you are not eating properly, you cannot push yourself to work out hard.
"So the festival is also being held to show Bahamians that yes you can work out and be fit, but it is also important to be aware of what you are putting into your body. We want to show them how to get their screenings done so we can tell you how to eat right and get the look that you are looking for," said Mr Wilson.
He said J Line also wanted to host the event to let people know about the services they have to offer for health and wellness.
"A lot of people didn't realise that this gym even existed, they thought it was just a small aerobics studio, and now it's time for them to see what we are all about," said Mr Wilson.
Under their daily "It's Electric" slogan, Ms Godet said it was their aim to try to 'electrify' the fitness community with a completely out-of-the-box approach to fitness and health. She said fitness and health just happens to be her personal passion.
"This takes a network, that is why I invited everyone out to meet the J Line Fitness Network. We have chiropractors, natural health supplement specialists, massage therapists, professional sports trainers, nutritionists, fitness instructors and many more," said Ms Godet.
She said it takes a group of people to get you to where you are going and to reach your health, wellness and fitness goals.
"You can't just walk into a facility and do specific exercises and think you are reaching your goals like that. It takes a lot of different elements to bring them all together to get results," said Ms Godet.
Ms Godet said J Line is a full fitness facility and they operate under the umbrella of a health 'haven', which is going to be a community of all-natural, organic products and services.
"We just want to let everyone know that the J Line community is going to be building. We have a natural health clinic that is going to be moving to the property of J Line. So we are going to have J Line Fitness, the court yard, the natural health clinic, and we are also looking at moving a chiropractic company and an apparel company here. As we grow, we are able to grow towards our initial vision which is an entire community of health and wellness," said Ms Godet.
For a first time event, Ms Godet said the turn out to the Electric Festival was 'awesome'.
"We had a lot of vendors and we had persons coming through and showing interest. We are certainly meeting our objective for the first festival and we just want to grow bigger and stronger every year," said Ms Godet.