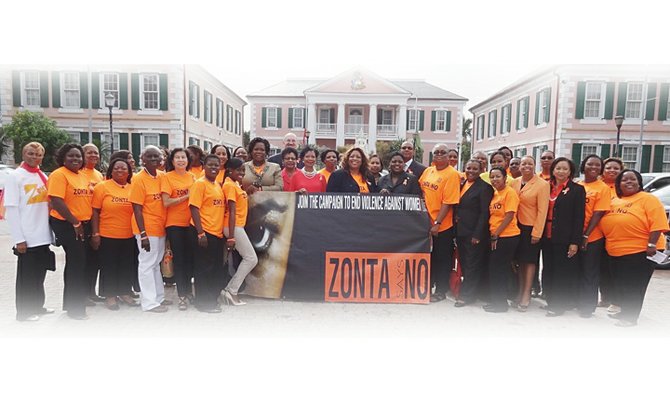 By JEFFARAH GIBSON
Tribune Features Reporter
jgibson@tribunemedia.net
THE BAHAMAS Zonta Club, the Bureau of Women's Affairs, and the Bahamas Crisis Centre reaffirmed their commitment to eradicating violence against women and children during the official launch of the 'Say No To Violence' campaign yesterday.
They have partnered with the Zonta Club of New Providence and the Zonta Club of Nassau to join the campaign which was highlighted during an event held in Rawson Square.
The launch event marked the beginning of '16 Days of Activism.'
Last year Zonta International launched the global campaign and 16 Days of Activism, highlighted by the colour orange, to demonstrate Zonta's partnership with the United Nations and its agencies.
Members of the two Zonta clubs in The Bahamas, the Crisis Centre, and other non-governmental organisations commemorated the day by wearing orange, distributing 'Zonta Says NO' flyers, orange ribbons and wristbands.
Melanie Griffin, Minister of Social Services, who delivered the keynote address, encouraged people to join and continue in the efforts to combat the 'ugly scourge' of violence against women and girls.
She said the 'Say No To Violence Campaign' should continue even after events surrounding 16 Days of Activism end.
"We believe every person deserves to live in a world free from violence and abuse. We believe that safe homes and safe families are the foundation of a safe society," Ms Griffin said.
"Organising and participating in an event like this is important but what is even more important is the action we take when the event is over. Our efforts and our resolve to eliminate gender based violence must continue beyond events.
"What do we do? Do we pack up and we go back to our cozy offices and nice life? What will happen beyond the 16 Days of Activism?
"This is a campaign that must continue. The task is not over on December 10, so our efforts to resolve and eliminate gender based violence must continue, and we must say no, and unite to end violence against women and girls," she said.
The theme for The Bahamas Crisis Centre's month is "No Means No".
The Crisis Centre's activities during the 16 days include tying orange ribbons around communities, a workshop on healthy relationships, town meetings highlighting the plight of foreign women who experience all forms of violence, as well as 'No Means No' walkabouts.
The Crisis Centre will end the campaign on December 10 in Rawson Square with a 'No Means No' Rally at 4pm.
Speaking on behalf of the Crisis Centre, Dr Sandra Dean Patterson said: "Violence against women is a pervasive, hidden form of human rights violation which is universally, unreported and underreported.
"Today we challenge the government to implement a separate sexual offences court to deal with the backlog of rape victims who wait seven, eight, nine or ten years before they can get justice.
"Today we call upon consideration to eliminate juries in the cases of sexual offences. Today we challenge men to join the movement and talk to other men who are being abusive and recognise that gender based violence is not respecter of persons, or income.
"Today we challenge perpetrators of intimate partner violence to recognise that their relationships are not healthy and that something can be done about it so they can get help."
In a show of support the United States Embassy also partnered with the Zonta Club and the Crisis Centre to observe 16 Days of Activism.
Charge d'Affaires John Dinkelman said: "Eliminating gender-based violence requires the concerted efforts of the international community, civil society, and the many unsung heroes who work tirelessly in their own communities to stop violence against women."
Within the past two years, the United States Government has increased awareness of gender-based violence and made the prevention and response a priority in foreign policy and development assistance programming.
National Women's Week – Schedule of Activities

NEW PROVIDENCE
Tuesday, November 26 at 10am - Viewing of Video Documentary on the Suffrage Movement Galleria Cinemas (Mall at Marathon & RND Plaza) (for students only)
Tuesday, November 26 at 7.30pm - Viewing of Video Documentary on the Suffrage Movement Church of God of Prophecy, East Street
Wednesday, November 27 at 10am – 11.30 am - Forum on Women in Leadership with Guest Speaker, Dame Jennifer Smith, former Premier, Bermuda College of The Bahamas (Harry C. Moore Library)
Wednesday, November 27 at 12.30pm - 2.30 pm - Luncheon for Female Parliamentarians with Guest Speaker, Dame Jennifer Smith, British Colonial Hilton Hotel (By invitation only)
Wednesday, November 27 at 3pm - Special Interview with Dame Smith & Minister Griffin.
Wednesday, November 27 at 7pm – 9pm - Women's Summit on Leadership Guest Speaker: Dame Jennifer Smith, British Colonial Hilton Hotel (By invitation)
Saturday, November 30 at 9am - Women's Forum on "What's love got to do with it" Grosvenor Close.

GRAND BAHAMA EVENTS

Thursday, November 28 at 9am – 9.30am - Courtesy Call on the Dr Michael Darville, Minister for Grand Bahama Prime Minister's Office, Grand Bahama
Thursday, November 28 at 10am – 11.30am - Meeting with Students in Grand Bahama with Guest Speaker: Dame Jennifer Smith TBD
Thursday, November 28 at 12.30pm - Luncheon with Women in Grand Bahama Pelican Bay Hotel (By invitation only)