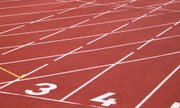 By MICHAEL BASCOMBE
Grenada Sports
SAN JUAN, Puerto Rico — The International Association of Athletics Federations (IAAF) may intervene to solve the on-going controversy with the Bahamas Association of Athletics Associations (BAAA), according to Victor Lopez, president of the North American, Central American and Caribbean Athletics Association (NACAC).
The BAAA has been steeped in controversy for the past year and most recently it has been reported that its president Mike Sands was suspended.
"Officially, both the IAAF and the NACAC are very concerned about the internal situation with the BAAA," Lopez told GrenadaSports.
"The recommendation from the IAAF staff was to try to solve the situation internally and if that does not work then the IAAF will intervene to try to solve the situation."
However, Lopez said that the Bahamas will stage the inaugural IAAF World Relays next May despite the internal situation with the BAAA.
He said the relays are guaranteed.
"During the recent IAAF Council meetings and the Gala in Monaco we had a meeting with the president of the BAAA, Mike Sands, with Pauline Davis, member of the IAAF Council and a member of the BAAA and the members of the IAAF staff that are experts in this type of issues and we agreed that bringing the situation to the court is not the best way to resolve the internal situation," he said.
"Regarding the organisation of the IAAF World Relays, that is guaranteed since the LOC is composed of individuals that are not involved in the internal situation of the BAAA."
Lopez, who was elected to the NACAC presidency last August to replace the late Neville "Teddy" McCook of Jamaica, described the current situation as unfortunate and embarrassing but is hopeful that there will be a resolution.
"However, saying the above it is embarrassing that one of our most prestige and well-organised member federations unfortunately is going through this situation when they should be concentrating on hosting the World Athletics Community in 2014.
"I am sure that pretty soon the internal situation of the BAAA will be resolved."
The IAAF World Relays are scheduled for Nassau on May 24-25, 2014.