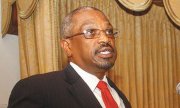 By SANCHESKA BROWN
Tribune Staff Reporter
sbrown@tribunemedia.net
OPPOSITION Leader Dr Hubert Minnis said yesterday he believes the outcome of the recent Haitian tragedy would have been different if the Defence Force's reconnaissance planes had been operational.
Speaking with The Tribune, Dr Minnis said it is totally irresponsible for the government to allow all of the RBDF planes to be down at the same time.
His comments came after it was revealed that the Defence Force knew about the 40-foot Haitian vessel that capsized in waters off Exuma as early as Friday, but could not locate it until days later – by which time 30 migrants had drowned – because none of its reconnaissance aircraft are operational.
"I understand that we have three planes, a P-68, a Caravan and a King Air, but only one is functional – which is the official plane. The government is irresponsible to allow the reconnaissance planes to be non-functional at the same time," Dr Minnis said.
"Any responsible government would ensure that the planes are working because the RBDF has a vast body of water to patrol. How could the government not make provisions for these things? That is totally irresponsible. You have left your borders wide open to poaching, human smuggling and drug smuggling. This leaves our marine resources in jeopardy. Their boats need these planes to guide them where they have to go.
"The outcome would have been different if those planes are working. They could have searched with the planes. I do not understand what this government is trying to do. They need to get it together," he said.
At least 30 Haitian migrants drowned and 110 were rescued – 19 women and 91 men – after their vessel ran aground near Harvey Cay. It was initially thought the sloop was headed to the United States, but survivors claimed they were headed for New Providence.
Royal Bahamas Defence Force Lieutenant Orgin Deleveaux said fishermen first spotted the Haitian vessel on Saturday, but after two days of searching in a go-fast boat and another RBDF vessel, marines could not locate the sloop.
In fact, it was not until six of the migrants had managed to make it ashore on a raft Monday afternoon that the RBDF called the US Coast Guard to assist in the search.
About an hour after deploying a helicopter, the Coast Guard found the boat 15 nautical miles from Harvey Cay – 20 miles from where the fishermen first reported seeing it.
"All three of the Defence Force planes are out of service and have been for a few weeks. We used our boats to look for the Haitian vessel on Saturday and Sunday. At that point it was not a search and rescue exercise, it was a search for undocumented migrants. Yes, the planes would have assisted in the sighting, but in terms of the dynamics of the exercise, it would not have been able to assist," Lt Deleveaux said.