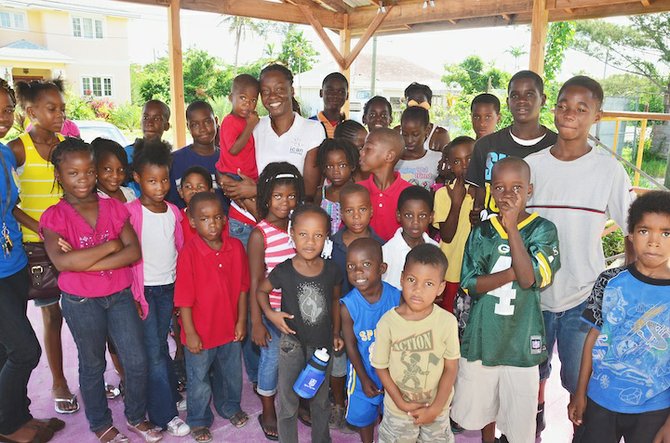 ON February 1 of this year, Paradise Children's Foundation hosted its inaugural gala fundraising event, "Pandora's Box in Paradise" at the Atlantis Resort.
It was a spectacular evening, exceeding expectations and raising significant funds for Bahamian children in need. Organisers said the success of the event was a result of smart planning, a lot of hard work and the boundless passion of a small group of dedicated individuals, as well as the significant generosity of patrons, and sponsors such as Atlantis and its employees.
In the seven months since the event, the Paradise Children's Foundation has distributed more than $236,000 in grants to various children's organisations. Further funds have been earmarked and will be distributed in the near future.
PCF grant recipients thus far for 2013 include:
• Ranfurly Home for Children – Paradise Children's Foundation made a financial contribution to the home, and paid full tuition fees for six of the children who attend Charles W Saunders School.
The Ranfurly Home for Children provides a safe and structured environment for children who have been orphaned, abused, neglected or abandoned.
• Elizabeth Estates Home for Children – PCF purchased a brand new 30-seater Coaster bus for the home to accommodate the transportation needs of the children.
The home provides and maintains a safe, alternative living accommodation for children in need of care and protection as a result of being abused or neglected by parents or guardians.
• Seahorse Institute – The Paradise Children's Foundation provided significant financial assistance to aide with the relocation and renovation of a new home for the Institute following a devastating fire in December 2013, which left classrooms destroyed and more than 20 special needs children displaced.
Seahorse provides year round programming with a comprehensive curriculum that specialises in the acquisition of language, communication skills, pre-academic and academic independent functioning and socialisation skill areas for children and adolescents with autism and other developmental delays.
• Feeding Programme / Laura's Soup Kitchen – In 2013 the PCF assisted the programme by providing food for distribution to disadvantaged communities. Additional funding included the purchase of two food delivery vans, and the conversion of a truck into a mobile kitchen for food preparation and distribution. Support was also provided for a summer camp for children in the Kemp Road area.
• ICAN – PCF assisted with a grant to purchase and install all of the roofing for 10 classroom pavilions. Through its programmes, ICAN provides a safe, positive, and supportive environment for children through six creative childhood learning programmes: iempower, iread, igrow, icreate, idiscover and iprotect. ICAN provides a solution to the negative repercussions of illiteracy and neglect including academic failure, low self-esteem, substance abuse, teenage pregnancy and criminal activity.
• We the People: Emotional Intelligence Programme – PCF provided a grant to We the People for funding of the Six Seconds Emotional Intelligence Curriculum for children.
The programme turns emotional intelligence theory into practice for both personal and professional development. Implemented at six government schools in New Providence to date, the goal is to impact the educational system in the area of soft skills training, with the hope of having the programme integrated throughout the national curriculum in the future.
• Reach (Resources and Education for Autism and related Challenges) – PCF funded the 13th annual summer Reach programme which caters to autistic children and their families.

The programme is staffed by special educators and provides the structure and stimulation required by these special needs children, who would not otherwise be accepted in other community programmes.
• Let's Swim Bahamas – PCF provided a grant that covers the cost of swim costumes, goggles, caps, swim coaches, pool blankets and scholarships for children to take part in after school swim programmes. Through this grant, the Let's Swim Bahamas programme is able to expand to more government schools and is also able to provide transportation for the children to the swimming pools.
The Paradise Children's Foundation is a not-for-profit organisation founded by Ocean Club Estates and Paradise Island residents, and is dedicated to improving the lives of Bahamian children in need. Through philanthropic initiatives, it channels resources to support and benefit local organisations that have as their primary goal, the betterment of children throughout the Bahamas.
The Foundation board is staffed by a small group of caring volunteers dedicated to improving the lives of Bahamian children in need and is currently being funded by direct donations and special events.
Pandora's Box 2014 is already generating a buzz and planning for the event is well underway.
Pandora's Box 2014 will take place on Friday, January 31, 2014, at the beautiful Cain Pool at the Cove, Atlantis Resort, Paradise Island.
Tickets will be limited and will be available for purchase directly through the Atlantis box office in the near future. For more information, visit www.paradisechildrensfoundation.org.