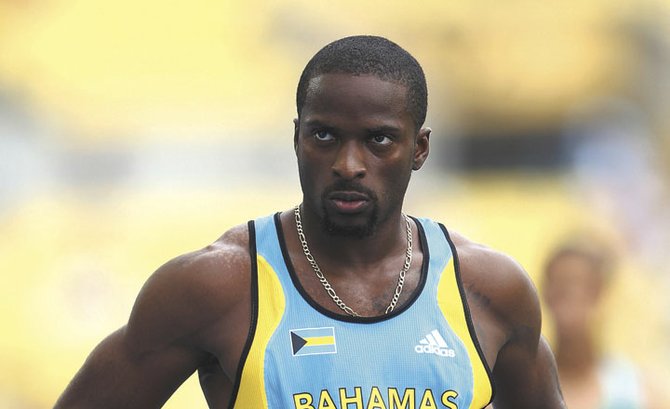 By BRENT STUBBS
Senior Sports Reporter
bstubbs@tribunemedia.net
QUARTER-miler Ramon Miller can add the prestigious Golden Hawk Award from his alma-mater Dickinson State University to his resumé.
Miller, the anchorman for the Bahamas' stunning gold medal victory over the United States in the men's 4 x 400 metre relay at the 2012 Olympic Games in London, England, is scheduled to leave town on Thursday to receive the special award on Friday as a part of Dickinson State's homecoming celebrations.
According to Pete Stanton, now in his 13th season as the head coach, the award is normally presented to a graduate from Dickinson State who would have gone on to excel in some type of business venture.
Stanton, however, said the alumni association was so impressed with Miller's accomplishment that he will become the first athlete and the first Bahamian to collect the award.
"He's receiving a special achievement award from Dickinson. It's the highest award that Dickinson State gives," Stanton said. "We are really pleased to be able to recognise him for his achievement. He's the first athlete and the first Bahamian to achieve the award."
The awards comes ahead of the Hall of Fame induction that Miller is sure to achieve when he and the other Bahamian alumni will get a chance to reach the minimum tenure of 10 years since they would have graduated to be considered for recommendation.
But Stanton said this was one award that they couldn't want to present to Miller.
"The alumni association really wants to recognise him for the notoriety that he brought to the university," Stanton said. "He was a great representative not just for the Bahamas but for our university. He's been a great ambassador for the university."
Stanton said when Miller was running his leg on the relay at the Olympics, they were watching it live in a jammed pack room at the University of Dickinson, cheering for him.
"We were all Americans, but this was one of the first times that we were really cheering for Ramon. We really wanted to see him win the gold for the Bahamas. That's just the kind of respect that we had for him as a person. He's a very humble person and the people here really like the way he has conducted himself."
Miller attended Dickinson State from 2006-2009. The former CR Walker graduate went on to set Dickinson State's school record in the 400m and also inked his name in the NAIA record books in both the indoor and outdoor as well as the 4 x 400m relay. During his final year, Miller was named the most outstanding performer, both indoor and outdoor.
Miller, who is here at home training for a comeback year after running injured at the IAAF World Championships in Moscow, Russia, was unavailable for comments. But his mother, Clarice Miller, was signing his praises.
"I feel really great for someone who came from a very humble background," she said. "It was not easy. I know it was a struggle for me bringing up three children. He's my oldest child and so I'm overwhelmed for this achievement for him. It's just amazing."
As a family, his mother said Miller, his sister and brother spend a lot of time together. "Tears right now are running down my eyes when I think about what he has achieved at the age of 26," she said.
"He is really a humble young man and that is what I appreciate about him. I thank God for the word of God that says "train up a child in the way of the Lord and when he gets old, he will not depart from it."
His mother, whose only regret is that she won't be able to make the trip to Dickinson State, says she has tried her best to help to instil some Godly principles in her son's life and she's just glad to see how he has responded.
"I'm happy to know that he is an ambassador for the Bahamas," she said.
With Miller's performance behind him, Stanton said he's looking forward to seeing how well Trey Pratt, and a few athletes they intend to recruit from the Bahamas by January, will perform. He said athletes like Miller, Derrick Atkins, Aaron Cleare, Trevor Barry, Jamal Forbes and Adrian Griffith have all made their presence felt.
Two other alumni, Dominic Goodman and LaSean Pickstock, have decided to remain in Dickinson State where they are now working.