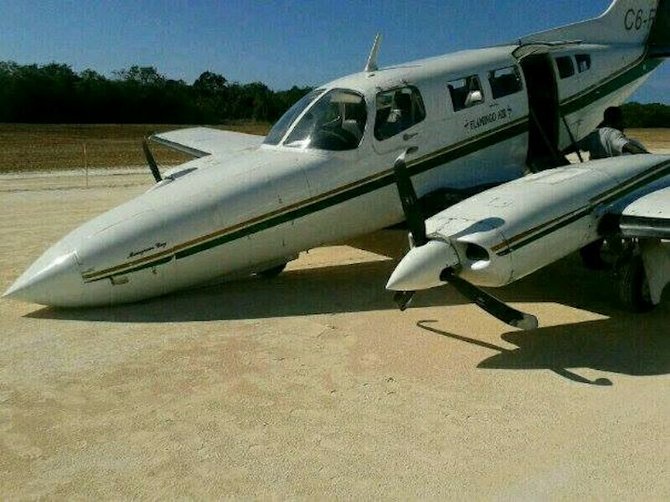 TWO pilots were lucky to escape without injury when their plane took a nose dive on the unfinished Mayaguana runway where three members of a family died earlier this year.
Area MP V Alfred Gray told the media that the plane nose dived on an unpaved portion of the runway damaging the plane's nose and its propellers and said that the incident does highlight the need for the airport repairs to be completed.
The Ministry of Transport and Aviation released a statement saying: "The Flight Standards Inspectorate of The Department of Civil Aviation was informed that a Cessna 402 aircraft registration C6-FLN, Manufactured by Cessna Aircraft was involved in an incident at approximately 8:45am EST, while landing at the Mayaguana Airport, Mayaguana, Bahamas." 
The aircraft  owned by Flamingo Air Limited was said to be operated privately at the time of the flight.
No passengers were involved and only two pilots were on board at the time.
No injuries were suffered by either pilot. 
The construction of the runway is a project currently undertaken by the I Group under the supervision and oversight of the Ministry of Works and The Department of Civil Aviation.
"The incident is currently under investigation by the Flight Standards Inspectorate. As more information is gathered, a determination will be made as to the scope and extent of the investigation, and the public will be informed accordingly," the release said.
It was in April that three members of a family on that island were tragically killed when a plane clipped one of their vehicles during a night time landing. The vehicles had come out to help with the emergency airlift – using their headlights to illuminate the runway, which was not equipped with lights. The plane had flown in to transport an elderly ill man to Nassau for medical treatment.
Dying in the explosion were Edith Collie, Enamae Polowick and her Canadian husband, Tim Polowick.
Following the tragedy, both political parties cast blame on the other for the airport's condition.
This second incident has highlighted the drastic need to bring the tiny island airstrip up to standard before another disaster happens.
Yesterday, social media was filled with people expressing their concern about the state of the runway.
"Thank God no one was injured in this incident, but this just proves that the government has got to get this airport repaired. I know these things take time, but you can't take any chances when people's lives are at stake," said one Facebook poster.
Another said: "Remember all the promises about what would be done at the airport when those poor people were killed. I wonder what has actually been completed between then and now."