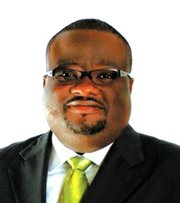 By NEIL HARTNELL
Tribune Business Editor
nhartnell@tribunemedia.net
Bahamian-owned airlines yesterday warned that some carriers will not survive increased taxes and a move to Lynden Pindling International Airport's (LPIA) new domestic terminal, with their rental/lease rates set to increase by up to 52 per cent.
Anthony Hamilton, the Bahamas Association of Air Transport Operators' president, told Tribune Business that under the current lease terms offered by the Nassau Airport Development Company (NAD) it would be almost-impossible for many domestic airlines to make it into the new terminal.
Pointing out that many carriers were already on payments plans with NAD, over rent and other fees that were owing, Mr Hamilton said these airlines would find it difficult to meet the LPIA operator's demand that they come into 'good standing' prior to taking up accommodation in the new terminal.
The Association president, who works at Southern Air, added that both the lease rates and NAD's demands that airlines provide Letters of Credit as proof of creditworthiness were also causing financial concerns for smaller airline operators.
Disclosing that discussions with NAD on these issues had been "not too favourable", Mr Hamilton said some carriers were exploring 'off-site' accommodation as opposed to renting from NAD in LPIA.
Yet "the challenges" involved in this, especially getting the approval of Civil Aviation and a multitude of other government agencies, meant such an option may not be feasible.
"Principally, it's a financial issue in light of the fact that a lot of the current operators have an existing payment plan with NAD, and their ability to effectively discharge their responsibilities with regard to the new terminal lease," Mr Hamilton said of his members' concerns.
"You're looking at maybe a 52 per cent increase in accommodation fees."
He added that NAD's requirement that airlines provide Letters of Credit as a condition associated with the new domestic terminal lease, in a bid to seemingly guarantee it would receive due rent payments, was concerning already financially-stretched small carriers.
Some, Mr Hamilton said, were viewing this requirement as "exorbitant" and a further impact to "cash flow from operations".
"Persons may get into the new terminal, but will they be able to sustain it? You go in with a deposit and Letters of Credit, but you may lose that," he added.
The Bahamas Association of Air Transport Operators' president illustrated just how stretched many local airlines are by confirming that the "majority of them" were on existing payment plans that had been worked out with NAD.
Asked about the likely impact on the Bahamian aviation industry from these latest cost rises, coming so soon after other NAD and Government-related tax and fee increases, Mr Hamilton replied: "Certainly, it's possible it will be reflected in the fact some of them [airlines] won't be around."
He told Tribune Business that "one operator in particular", LEAir, had been exploring an off-site location away from LPIA near Odyssey Aviation.
"But getting permission, that's challenge," Mr Hamilton said. "There's numerous agencies that have to be involved in that process. They've taken the initiative to explore that, but it doesn't look too favourable.
"Yet as a Bahamian investor and operator, some consideration should be given... We have made some efforts, trying to have discussions with the authorities, NAD in particular, but it's not been too favourable at this point, and we're trying to put some pressure on by going to the public."
Vernice Walkine, NAD's chief executive, did not return Tribune Business voice mail messages or e-mails seeking comment on the situation.
However, Captain Randy Butler, chief executive of Sky Bahamas, revealed to Tribune Business that Bahamian-owned airlines were having to invest between $70,000-$180,000 to outfit their own offices and space in the new domestic terminal.
"They just give you a shell," he told this newspaper. "You've got to put everything in yourself, offices etc..."
Captain Butler said carriers had to meet a deadline to furnish their space, and provide approved architectural and engineers' drawings themselves. NAD then approved them, and "tells you what standards they want included".
The Sky Bahamas chief said the problems created by fee and tax increases stemmed from two factors; the absence of a National Domestic Aviation Plan and the business model for LPIA's $409.5 million expansion.
Captain Butler said airport expansions worldwide were normally driven by airlines' need for increased capacity, and it was they who approached the airport operator to determine how much additional space was needed and how it would be financed.
Yet with LPIA, this had worked the other way around, with the Government and NAD driving the expansion and determining what was needed in anticipation of Baha Mar and other resort developments.
This, suggested Captain Butler, had left the Bahamas with a "luxurious" airport and $445.431 million in long-term debt as at end-June 2012.

The interest costs associated with this debt, he added, had to be serviced, and the main way for NAD to do this was levy fees on its main users - the airlines and passengers, plus restaurant and retail tenants.
"The airport is beautiful," Captain Butler told Tribune Business."But now we're having a problem where some carriers are unable to keep up with the fees and taxes......
"Is this what we need, or is this just a nice luxury? What we needed was a cost effective, clean airport that made sense. The luxuries are very welcome, but does it make sense?"
Pointing out that domestic airlines had no choice but to pass these taxes and fees on to passengers in the form of higher ticket prices, Captain Butler said: "They're putting domestic travel out of reach of the local population.
"We have to pass this onto the folks. We are not Bahamasair and the Government. We cannot continue to subsidise this. We need to pass this on to the passengers."
Captain Butler said this was happening at the same time as the Government's 2013-2014 Budget tax increases, and NAD's October increases to passenger facility fees.
"You either eat it or go out of business," he added, "and have no one to appeal to because it's the Government. We don't know what's going to happen next year, two years from now.
"There's no plan in place. We don't know what's driving it, and this directly affects access to the Family Islands and service from Nassau.
"What is going to be the future of these folks in transportation, hotels, coming to the doctor? These places depend on airlines to bring perishables, as the mail boats take too long to get there. These domestic carriers are the lifeline for some of these Family Islands."
Mr Hamilton echoed these sentiments, suggesting that the multitude of increased fees may cause some Bahamian airlines to slash employee levels, particularly in the Family Islands.
He added that there were 25-30 Bahamian-owned carriers operating in the market, with the largest employing 50-70 persons on average.