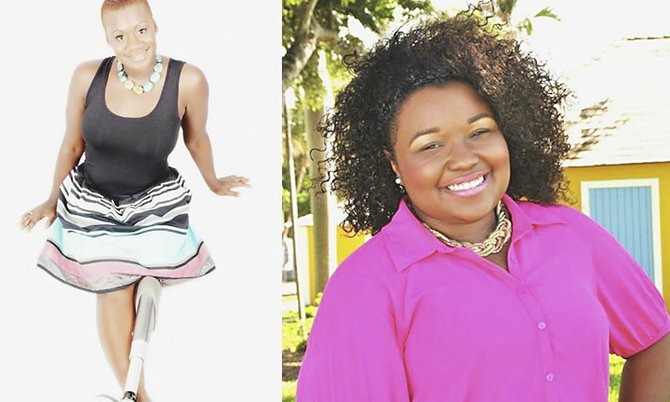 By ALESHA CADET
Tribune Features Reporter
acadet@tribunemedia.net
FROM corporate business places and school, to events and local TV, it is likely that you will see a lot of pink for the remainder of October as the community joins together to raise awareness about breast cancer.
"Bahamian Beauties Against Cancer" was an organisation created by youth consultant, public speaker and writer Anastarcia Huyler. She told Tribune Woman the campaign was created for two reasons: to remind women that they are beautiful in spite of their age, complexion, hair texture and body type, and to remind women that their beauty is tied directly to their health.
"To help me in this cause I got fifteen phenomenal women including four cancer survivors to tell me what makes them beautiful and to remind women of the importance of cancer awareness. The women were chosen because they are successful in their own right but have all overcome certain challenges, including insecurity to get to where they are now," said Anastarcia.
In an interview with Tribune Woman, two of the women, D'Asante Beneby and Erin Brown, shared their thoughts on the campaign and why they are honoured to be considered Bahamian beauties.
As a community activist, D'Asante said: "It is my hope that more women empower each other. It's so beautiful to see these women share their stories, offer their advice and words of encouragement to others. In a time when we're surrounded with shows about women tearing each other down, so many women degrading themselves for attention for social media likes, follows and retweets. So many are focused on outer beauty than inner beauty, and this campaign is everything we need."
She said it is also her hope that more women go to be examined and carryout self examinations throughout their lives.
"This is what our young Bahamian girls need to see and what we as a nation need to continue to promote in whichever way we can. It is my hope that Bahamian women will be encouraged to stay strong and follow their dreams. Hearing about the other ladies stories, their accomplishments and dreams, it inspires myself and I'm sure it will inspire others to follow through on their dreams," said D'Asante.
For cancer survivor Erin Brown, she said the idea of the campaign is amazing. "I am grateful that there are young women in our community who are so willing to risk the scrutiny of others just so they can provide a service of awareness and appreciation for those at risk," she said.
"I pray that the change this campaign will bring is a togetherness in our community among women to look out for each other and help the village to remain healthy. The awareness I am hoping for is women to know that they are beautiful no matter what the odds are," said Erin.
Erin said when she was contacted by Anastarcia about being featured, she gladly accepted because she has always been a supporter of anything cancer related, disability involved, female inspired or Bahamian motivated.

"I always thought my career would involve computers as I went to college for Computer Information Systems which then turned into Business Management. However, bone cancer has changed my perspective on my career and now I call it my journey. I was diagnosed with bone cancer in April 2004 after falling at home doing housework, while on holiday from university," said Erin.
After many doctor visits and chemotherapy, Erin received an amputation of her left leg and has been cancer free for nine years now. She said she is now on the journey of awareness, inspiration and training for the Paralympics 2016 Triathlon. Erin also works as a makeup artist, hair stylist and an advocate for persons living with disabilities.
"Being an amputee, I break many stereotypes each day in my profession. The decision to amputate my leg was a moment of purpose. Becoming the first Bahamian female amputee to participate in a marathon was a moment of courage, being chosen for the Bahamian Collection at the National Art Gallery was a moment of awe. Being nominated for the Bahamas Icon Award for Humanitarism Erin Brown was a moment of motivation, and training for the Paralympics 2016 Triathlon will be a moment of triumph," said Erin.
Apart from her community work as a social justice and human rights chair member of the Eta Psi Omega Chapter Alpha Kappa Sorority Inc , D'Asante works as the administrative cadet for the Ministry of Financial Services with the responsibility for public relations and marketing. She's also the proprietor of Envision Solutions, a marketing and public relations firm with a focus on small and medium sized businesses.
"Marketing is all about researching, planning, strategizing and executing initiatives. I love working on projects from the ground up whether it's a communication plan for work, branding package for a new business venture for a client or planning a corporate event. I love what I do," said D'Asante. She said her trials and tribulations have earned her the title of being a fighter and go getter.
"The experience of losing loved ones, financial struggles, health scares, a car accident and other not so happy times have helped defined me. People who really know my story usually ask how I do it, how do I keep going, but I believe that God has called me to a great purpose and that requires great preparation," said D'Asante.