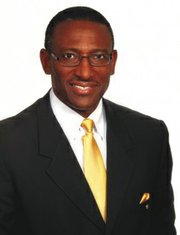 By RASHAD ROLLE
Tribune Staff Reporter
rrolle@tribunemedia.net
THE building residents of a community in Eleuthera had hoped to turn into a library and community centre will be temporarily used as an administrator's office, Minister of Agriculture, Marine Resources and Local Government Alfred Gray announced yesterday. 
His comments came amid reports that residents of the Upper Bogue community believe the government is going back on its decision to allow a former teacher's residence be turned into a library, community centre and hurricane shelter. Instead it was decided to turn the building into an administrator's office after that office was destroyed by fire earlier this year. 
"The Ministry of Education had approved the use of the building for some other purpose, but after the fire destroyed the administrator's office, the government had to quickly find an accommodation since the administrator is responsible for providing most important services to the entire island,"  Mr Grey told The Tribune.
Mr Gray added that the building, which became vacant in 2012 when the former principal of a school in Eleuthera was transferred, will serve as an "emergency building" for the administrator until a new administrator's office is created. 
Asked if plans have been set to quickly construct a new administrator's office, Mr Gray said: "I can't say that plans are in place, but certainly the government intends to create a new building. This is just a delay." 
Kevin Collins, a local government representative who has played a leading role in lobbying for the government to let the former teacher's residence be transformed into a community centre, said the government could use other buildings to house the administrator's office. He added that the community was being "strong-armed" to give up the building by the island administrator. 
In response, Mr Gray said: "They might've expected the government to pay rent somewhere else, but the building they wanted to use belongs to the government so why pay rent some place else when a building owned by the government is already there?"