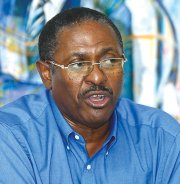 By KHRISNA VIRGIL
Tribune Staff Reporter
kvirgil@tribunemedia.net
PLP Chairman Bradley Roberts yesterday criticised FNM leader Dr Hubert Minnis for calling for Prime Minister Perry Christie's resignation as Finance Minister.
On Sunday, Dr Minnis said Mr Christie should resign after he, as finance minister, and National Security Minister Dr Bernard Nottage, responsible for the referendum, gave conflicting information as to how much the gaming referendum had cost the taxpayer.
Mr Roberts said in a press release that Dr Minnis was in no position to talk after sitting on the sidelines, and allowing the previous FNM administration to recklessly spend money.
"Who was at the wheel when Minnis and his cabinet colleagues reported a figure on the national debt that contradicted Central Bank figures to the tune of $500 million?" Mr Roberts asked,
"It was current Prime Minister Christie who alerted the public to this discrepancy.
"Further, Dr Minnis reported that the newly constructed Critical Care Unit at the Princess Margaret Hospital would cost about $70 million, but the public now knows this structure to cost taxpayers twice that amount, thanks again to the current Minister of Finance.
"Dr Minnis apparently did not know what was going on in his own ministry or he wilfully misled the Bahamian people.
"The public now knows about the fiscal improprieties and mismanagement that took place at the National Insurance Board under the watch of Minnis' cabinet, thanks to the current Finance Minister and Prime Minister.
"Dr Minnis cannot call for the resignation of anybody when he stood in total silence in full support of cost overruns on the FNM's jobs training programme of around $25 million and more egregiously, on the New Providence road project of around $100 million."
Mr Roberts further questioned whether Dr Minnis was truly concerned in the best interest of the Bahamian people when he did not speak up on the failures of the FNM government while serving as Health Minister.
"Given the reports communicated to the public by the Minnis' government and the official figures released by the current Finance Minister and Prime Minister, one has to wonder if other government departments and ministries were spending more than the Ministry of Finance and the cabinet of which Dr Minnis was a member knew about.
"If Minnis was so concerned about the people's money, why did he flatly refuse to speak up?
"If his cabinet colleagues opposed him on this, then why did Dr Minnis not resign on principle?
"Or was it that Dr Minnis knew all along about these fiscal discrepancies and acts of mismanagement, but decided to deceive the public?
"Dr Minnis and his cabinet colleagues should have approved the expenditures so he should have known what was going on, but his silence was deafening," the PLP Chairman said.