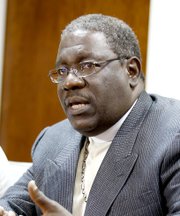 POLICE officers should put the good of the country above their own interests and give full support to the new 12-hour work shift policy, a group of pastors said yesterday.
Their comments followed the revelation by Police Staff Association (PSA) chairman Dwight Smith that more than a month into the emergency anti-crime surge, officers working longer shifts with no compensation are feeling abused and abandoned.
The pastors said: "The current project headed by Commissioner Greenslade and the police force, which calls for police persons to work 12-hour work shifts, is having a noticeable positive impact on crime.
"All reservations expressed about this programme have proven wrong and we want to commend all members of the police force and offer pastoral services should any family issues arise from these extended hours.
"We call on all members of the Police Association to 'place country above self' and go the extra mile in their duties."
However, the pastors went on to say the government must do all it can to see that hardworking policemen and women who place their lives on the line each day are adequately remunerated.
"We pray the decline in murders continues and we also pray that prosecutors will match the arrest of criminals with convictions," the statement added.
Last week, PSA chairman Smith wrote a letter to Prime Minister Perry Christie requesting a meeting to discuss compensation for officers who were put on a 12-hour shift in early September in an attempt to get crime under control.
While speaking with The Tribune as he walked on Bay Street, Mr Smith was interrupted by the wife of a police officer who said: "You need to take the officers off the 12-hour shifts."
"I'm doing all that I can. Be strong, we trying," he replied.
But moments later another woman, a police officer, interrupted him and said: "We tired."
"I know y'all tired, we ga fix that," he replied.
"I'm out on the streets," he remarked, "and I'm constantly being met by spouses and police officers telling me I need to take the officers off this 12-hour shift."
Mr Smith said officers deserve to be "treated like human beings."
He added that he will comply with labour regulations and give the Ministry of Finance two weeks to outline what compensation the government will give officers.
The pastors' statement was signed by: Bishop Simeon Hall of New Covenant Baptist Church, Rev Dr Shelton Higgs of New Lively Hope Baptist Church, Bishop Roston Davis of Golden Gates Assembly, Pastor Dean Wells of Pentecostal Church of Faith in God, Bishop Victor Cooper of New Bethany Baptist Cathedral, Bishop Gregory Minnis of New Jerusalem Ministries, Pastor Philemon Wilson of Faith Temple Ministries and Rev Dr Philip McPhee of Mt Calvary Baptist Cathedral.