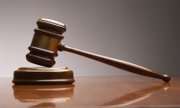 By LAMECH JOHNSON
Tribune Staff Reporter
ljohnson@tribunemedia.net
THE death penalty will still be considered for three men convicted of a policeman's murder even though the prosecution did not comply with practice directions to serve them notice of that intent, a Supreme Court judge ruled yesterday.
However, Justice Roy Jones also ruled that he would take into consideration the prosecution's non-compliance with these established practices when deciding the fates of Stephen "Die" Stubbs, Andrew "Yogi" Davis and Clinton "Russ" on October 22, when the sentencing takes place.
On Wednesday, defence counsel argued that the death penalty was out of the question as the Crown failed to give notice of its intent to seek this sentence on the date of conviction – as outlined in directions by former Chief Justice Sir Burton Hall in 2006.
Public Prosecutions Director Vinette Graham-Allen countered that the nature of the charges and particulars brought against the three men served as notice of the Crown's intentions.
On July 25, Stubbs, Davis and Evans were each found guilty of murder in the March 1999 death of Constable Jimmy Ambrose and attempted murder of Constable Marcian Scott. Evans was separately charged with two counts of possession of a firearm with intent to put another in fear. He was found guilty on both counts.
Stubbs was represented by Murrio Ducille and Jerone Roberts while Davis and Evans were represented by Ian Cargill and Ramona Farquharson-Seymour respectively.
According to the evidence, Constable Ambrose and Constable Scott were shot at by Stubbs and Evans after a fight in a local nightclub. Ambrose was hit and died as a result of his injuries.
Evans possessed a firearm with intent to put Constables Frank Burrows and Calvin Robinson in fear of their lives.
All three men pleaded not guilty when the charges were initially read to them. The jury returned unanimous guilty verdicts on all counts.
The men were remanded to Her Majesty's Prison until September 18 to await sentencing.
However, on September 18, it was revealed that the psychiatric report in the matter was not ready as a medical examiner claimed that the court's request for a report came too late and to complete the report would require three weeks.
At the time, lawyers for Stubbs and Evans submitted that the death penalty could not be considered because no notice was served.
The Director of Public Prosecutions disagreed.
Justice Jones stood the matter down to October 16. On Wednesday, however, the question of whether the three men convicted of a policeman's murder had been served notice of the prosecution's intent to seek the death penalty took up most of what was expected to be a sentencing exercise.
Justice Jones yesterday ruled that the death penalty was still being considered, as it was allowed in law to the court's discretion.
He would not conduct the sentencing exercise, however, until the practice guidelines were met and all the relevant documents were submitted to the court and counsel on both sides.
The matter was adjourned to October 22.