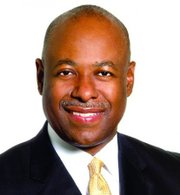 THE government will extend an invitation for Bahamians to pitch new tourism products to the cruise industry next month, Tourism Minister Obie Wilchcombe said yesterday.
As the Nassau port welcomed another major cruise line yesterday, Mr Wilchcombe underscored the increased demand for a wider offering to lure tourists off cruise ships to spend more in the Bahamas' economy.
He added that major renovations were scheduled for Festival Place at Prince George Dock.
"If you look at these vessels you will see that all of them are getting bigger and bigger and they carry more and more people," said Mr Wilchcombe. We've got to get more of our visitors off the vessel because if you look at the spend that's where my difficulty is. If there are millions of visitors and they are spending an average of $60-$80, that's not enough. We want to get more spend which means there's a demand on Bahamians to create more tours, more activity, to ensure that we have night life."
During the inaugural ceremony of the Norwegian Breakaway, Minister of Tourism Obie Wilchcombe announced that construction to the Welcome Centre at Prince George Dock will begin at the end of the month.
Displaced vendors will line the Prince George Wharf under colourful cabanas, Mr Wilchcombe said, adding that the expansion will offer greater opportunities.
Works are expected to span over a nine-month period.
"It's just too small," said Mr Wilchcombe, "at one point we thought we'd be able to do about one million and a half visitors, but don't forget we're doing almost five million cruise visitors. Yesterday, we had five vessels in port, on any given day that's 23,000 people. It's too tight, we have to broaden it a bit and create greater appeal."
"During the Christmas festival," he said, "you're going to see that entire stretch filled with vendors. In the night time, we're going to use Pompey Square, and use that period to focus on some of the entertainers that have passed on.
"The cruise lines want more so we have to reach out and get Bahamians to provide more," he added.
Norwegian Breakaway features 29 dining options, including restaurants from Food Network Star and Iron Chef Geoffrey Zakarian, and Master Baker Buddy Valastro, star of TLC's "Cake Boss"; three Broadway shows; an ice bar; a weekly fireworks show at sea; and the largest Aqua Park and ropes course at sea, including five water slides.
From her berth at the New York Passenger Ship Terminal in Manhattan, Norwegian Cruise Line's newest vessel will make seven-night cruises to Bermuda, May through September, and seven-night cruises to the Bahamas and Florida, October through April.