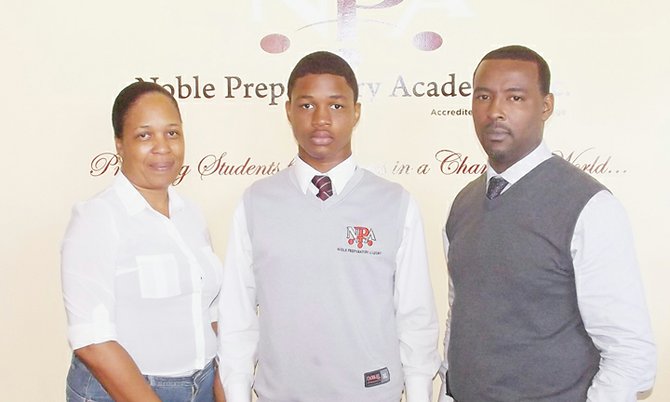 By BRENT STUBBS
Senior Sports Reporter
bstubbs@tribunemedia.net
Shamar Burrows, arguably the best junior boy point guard in the country today, will be packing his bags and taking his talent to Ridley College, one of the best traditional private boarding and day university-preparatory schools in St Catharines, Ontario, Canada.
The 15-year-old 10th grader at Noble Preparatory School is scheduled to leave town on November 8, just in time to prepare for the Tigers Boys Developmental basketball team's 2013-14 season, having secured an unique all-expense paid athletic scholarship in an exchange programme.
Burrows will be just the fourth Bahamian out of the NoBull basketball programme, headed by coach Geno Bullard Sr, who would have been afforded an opportunity to compete for the Tigers. The others included Geno Bullard Jr, Weston Saunders and Justin.
His mother, Shuna Hunt, who will be accompanying him along with coach Bullard when he goes to enrol in the new school, said it's something that her son had dreamt about doing from the time he started playing basketball in the NoBull programme at the age of 10.
"Thanks to coach Bullard for helping to make this actually become a reality," she said. "Trying to be a good supporter of what he loves to do and keeping him focused, I know he came from a very, very long way. So I'm really grateful for coach Bullard for keeping him on the path that he should be on and strengthening him to be able to make this transition in his life."
Hunt said this is definitely Burrows' time and she thanked God for allowing him to be able to witness this day where he can go off and play basketball.
"It's just unbelievable knowing the calibre of school that it is and just to see that it is actually happening for Shamar," she said. "His desire was always to be able to have that chance to say 'hey, I did it.' I pray that he continues to stay focused because he knows the path he wants to go, so I'm not going to stop him. I'm just going to continue to support him and be there in the background for him."
Having come out of a lineage of outstanding athletes, including his granduncle the late Rueben 'Cheetah' Knowles and his grandaunt Andrea 'Gorgeous' Knowles-Charlton, as well as his mother, who also played basketball, Burrows leaves with a lot of anticipation.
"Once he stays focused and keeps up with his grades, he can make it," Hunt said. "He has the right attitude and as long as he remembers where he came from and he stays on the right path and be true to himself, he can do extremely well."
For Burrows, who has been the pivotal player to watch on just about every team he's played on, said it's definitely a dream come true for him where he can get to decide his future.
"I feel it's going to be a great experience and a great path for me to start my career on," he said. "I just have to start to look at the bigger picture like college and my future because you never know who you will meet out there. So to attend a school like Ridley College, you never know what you can expect out there in life."
Without coach Bullard's support, whom he credited for teaching him the basic fundamentals of the game and has been instrumental in improving his game, said he was having a bad day and he felt that everything was going wrong and he was just hoping that something would break.
"I went on the basketball court. That's where I go and relax my mind and shoot shots to help clear my mind," he said. "That night when I went home, my mom hugged me and she told me to read this message. When I read it, I stood there and just screamed because that whole day, I was feeling down and I didn't know when something good was going to happen.
"When I read it, I was so thrilled because everything that I worked so hard for just came together. I just said that I have to push myself because it was a dream come true. I just want to thank my mom, my family, coach Bullard and all my team-mates for all the help that they gave me. We're all family and nothing is going to separate us, even though I now have to get ready for the next level."
Having visited the school on two occasions, first at the age of 13 and again in April when he got to work out with head coach Walt Szpilewski, Burrows said he had the opportunity to check out other campuses in Canada and the United States, but he never felt the way he did at Ridley College.
"I just felt that Ridley is the place for me, the environment, the people, just everything about the school was so unique," he said. "Everything is just there for you and it's a school where you can be successful, having watched the other role models like Geno Bullard, who went there before me and set the pace for me to follow.
"I don't feel that every route that everybody takes is normal. I feel it should be different for me and so I'm going to do what I have to do to be successful. I had a lot of offers to go elsewhere and I weighed them all out, but I just felt like Ridley was the place for me to go."
With the background he's had with the NoBull basketball programme, Burrows said he expects to go to Ridley and expand his horizon and eventually get into a good division one college programme when he's finished and hopefully move on to become a professional basketball player in the long run.
For coach Bullard, Burrows has exemplified what a coach looks forward to in every athlete that they coach.
"It's amazing to see that you can have a diamond in the rough like Shamar, who is totally committed to his success," Bullard said. "There's not too many things that you ask him to do that he doesn't or can't do. There aren't too many people that come around like him.
"For a long time, I told Shamar that he has the opportunity to be more successful than any other students that I've coached because he's been around for so long. From 10 years, he was training with guys who are 15, 16, 19 and 20 years old and he's been pushing himself just as hard as them."
Burrows, according to Bullard, is a testimony of the tremendous work that he has put in to improve his game.
"His dedication over the years has helped to propel him to the position that he's proven that he's well beyond his age," Bullard said. "I feel he's in a good position as a basketball player, to take full control of his future and understanding what it's going to take to accomplish his goals."
With the strides he's made in his game over the years, Bullard said Burrows will definitely stand out when he heads to Ridley College.
"With us having our own school now, we are able to properly prepare our students for that Ridley experience, which is a high level coming from any student," he said. "Gee was mainly the person who was responsible for opening the door for Shamar to get this opportunity.
"We were just learning when Gee went in. Now we know the complete system of Ridley College. Geno has benefitted greatly from it because he's a student and that is what Ridley is big on. Even though Shamar has a tremendous amount of athletic ability, I feel as though he's going to benefit even more in becoming a student first."
From Ridley College, Bullard Jr has enrolled at Kentucky State and now he's in Minnesota State where he's competing in both track and basketball and when he's done, Bullard Sr said he expects for Burrows to be moving on to higher heights as he takes his game to another level.
And because of the inspiration he got from those who went off ahead of him, Bullard said he's quite confident that Burrows will come into his own when he leaves to begin his quest for success at Ridley College next month.
In the meantime, Burrows is spending as much time in the classroom, making sure that he keeps up with his studies at Noble Preparatory Academy. When he's not, he's on the basketball court trying to improve his game so that he can go right in and make an impact as a student at Ridley College and a player on the Tigers basketball team.