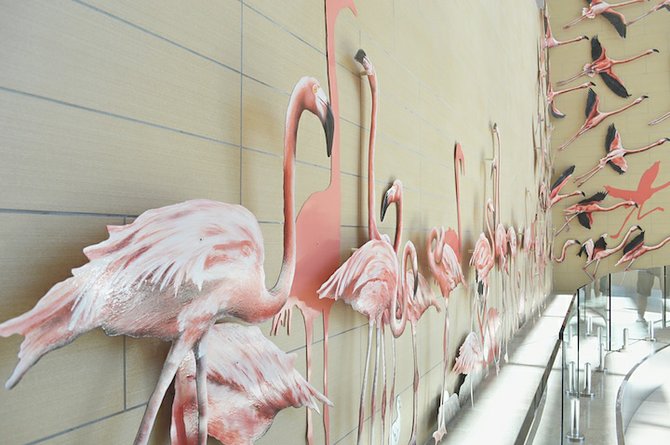 By JEFFARAH GIBSON
Tribune Features Reporter
jgibson@tribunemedia.net
IT WAS long road to walk for three Bahamian artists who were tasked with the responsibility of creating artwork for the domestic and international departures terminal of the Lynden Pindling International Airport almost three years ago.
Antonius Roberts, John Paul Saddleton and Dede Brown were contracted to capture the essence of the Bahamas in art. Their creations were unveiled last week during the opening ceremony.
From the second-floor departure lounge, Dede Brown's marching flamingos can be seen in flight, a symbolic nod to the impending journey of those travelling to the Family Islands and around the world. Closer to ground level, at the doorway to baggage claim for domestic flights, the flamingos stand at attention, tanning and grooming themselves in a communal cluster.
Earlier this year, during her Tickle Me Pink Art exhibit at Central Bank, Dede provided a sneak peak of her artistic knack working with flamingos. Unlike the paints on canvas that predominated the former exhibit, Dede's installation are sculptures that consist of 75 life sized painted flamingos cut out of sheeted aluminum.
"I submitted the concept and the design about two years ago and it was accepted in March 2010; so it has been a long wait. I really started working on it during the end of April this year, right through until the installation which was the end of September.
"At first I thought it was little cliche to use birds, but then I could not get it out of my head and it would not leave me alone. My grandmother really loved birds and I just felt this inspiration from my family and my roots. When we were given the opportunity to see the plan, they had assigned locations for the artwork and it seems so fitting to put the flamingoes in the domestic departure terminal. Flamingoes inhabit Inagua and I said 'ya know what this is kind of the way to take all the Bahamians home. Flying is so stressful and it seems like a way to relax people. The flamingoes actually guide you to your flight and I designed them specifically for that," she said.
"It is really exciting to have my work featured. I want Bahamians to recognise that art is important and we need to really educate people and let them understand that art is a huge part of our culture and our education as well," she said.
Veteran artist Antonius Roberts illuminates the terminal with his "Bubbles" installation, comprised of 150 blown glass spheres and 6 stainless steel sheets cut into waves. Bubbles captures the essence of the Bahamian seascape, embodying the qualities associated with the waters of the Bahamas: "clarity of light, floating, weightlessness, translucency, freedom of movement".
It took Mr Roberts about two years, with a community effort, to design, fabricate and install the pieces, he said.
"It has really been a transformative experience, throughout the entire process. I really appreciated and valued our communities and the fact that I have the opportunity to work on something on this scale and to also be in a position to connect, collaborate and be engaged with artists, designers, engineers. It has helped me to view art on a totally different level and work with an awesome organisation like NAD," he told Tribune Arts.
"This is really a surreal experience to see so many people from all walks of life celebrate the opening of the LPIA. My concept and ideas changed through this whole process. It was one thing to put an idea and concept on paper but when you take that from paper and actually go through the process of fabricating it and pulling the pieces it evolves and it changes," he said.
Although artist John Paul is satisfied with his mural, which stretches 32 feet wide and 8 feet high, he knows he will find something to change every time he travels through the terminal to the Family Islands.
"I think it turned out well. But as you know a painting is never finished. Every time I fly or get on the plane, there will be something else I feel I could do. It is exciting however, and it is the biggest thing I have participated in. I tried to make it interesting and I hope people like it," he said.
John Paul's mural depicts the history of the Bahamas in condensed form, from the country's early beginnings.
"We had to create a sense of place and I picked an historical sense of place. I based the mural on a sense of history in the Bahamas. It is the biggest project I have ever worked on. It took about 8 months to paint. It is not comprehensive in terms of history; it is very Nassau-centric even though the Out Islands have a lot of history as well. I guess it is sort of a chronological history about the Bahamas with the story about Columbus. Then you go through Nassau pirates, sponging, and it finishes with Junkanoo and a little marine life at the end," said John Paul.
"My idea was just a little smattering of history. People can get a flavour of what happened before," he said.
NAD also partnered with the National Art Gallery of The Bahamas to feature 12 art cases within the international departure and arrival corridors. The exhibition changes every six months. To date, more than $2 million has been invested in Bahamian art at the airport.