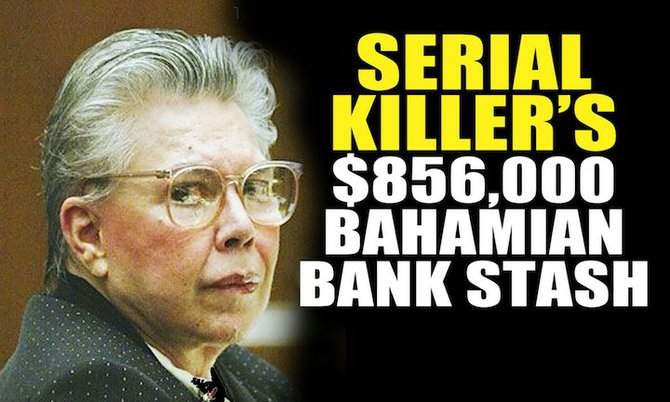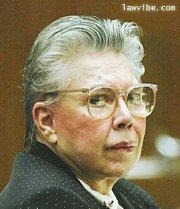 By NEIL HARTNELL
Tribune Business Editor
nhartnell@tribunemedia.net
More than $856,000 belonging to convicted serial killer, Sante Kimes, and her late husband was stashed in Gulf Union Bank (Bahamas) when it collapsed in the late 1990s, Tribune Business can reveal.
The details were confirmed in a September 4, 2013, letter written by Callenders & Co attorney, Cheryl Cartwright, to both Kenneth Kimes' estate and the man holding power of attorney for Sante Kimes, who is now serving a 120-year prison sentence in the US.
The letter, sent on behalf of Gulf Union Bank (Bahamas) liquidators, accountants Raymond Winder and Graham Garner, disclose that the Kimes' had more than $856,000 spread between three accounts when the bank collapsed into insolvency.
While just $11,511 was contained in an account under Kenneth Kimes' name, some $365,495 was held in another account in the name of his wife. And the final $479,348 was placed in an account under the name 'Kimes Motel'.
The Kimes' Bahamian financial stash was revealed to Tribune Business by Eric Martin, the man who holds Sante's power of attorney.
He told this newspaper yesterday that he suspected the accounts contained funds generated by insurance fraud, and possibly monies stolen from the victims Sante and her son, Kenny, murdered.
The Kimes lived in Nassau for four years during the 1990s, and Mr Martin said the family likely moved money to the Bahamas to escape both pending lawsuits and judgments against them, plus evade the Internal Revenue Service's (IRS) scrutiny.
He added that the confirmation by Gulf Union Bank (Bahamas) liquidators would likely trigger a massive fight to reclaim the Kimes' assets, involving Sante, on one side, and her late husband's children, Linda Keyes and Andrew Kimes, who are acting for their father's estate.
And there is likely to be a further participant, namely the Federal Bureau of Investigation (FBI), who Mr Martin said he has tipped off about his findings.
Other potential competitors could be Sante Kimes' former attorneys, who have already claimed $109,649 in dividends paid out by the Gulf Union Bank (Bahamas) liquidators on the account in her name from the funds they have recovered. These monies have been used to cover their legal fees.
Mr Martin told Tribune Business yesterday that he was speaking out because he wanted to ensure the monies recovered in the Gulf Union Bank (Bahamas) liquidation went to those who were most deserving, namely Sante Kimes' victims.
Apart from the murders of New York socialite, Irene Silverman, and family friend, David Kazdin, for which she and her son are now serving life sentences, Sante Kimes is also suspected of killing her late husband, Kenneth, former lawyer Elmer Holmgren and a vagrant.
And she and her son are also suspected to have murdered banker Syed Bilal Ahmed, when he came to the Bahamas to investigate so-called 'irregularities' with the Kimes' accounts at Gulf Union Bank (Bahamas).
Explaining how he became involved with Sante Kimes, Mr Martin said: "I was really intrigued. She was married to a millionaire, and committed all these crimes. It was a wild story.
"I wrote to her to see what information I got out of her, and to see whether she was as portrayed in the movies. Yes, she's like that."
Mr Martin added that Sante Kimes initially had another 'power of attorney', Bryan Johnson, but eventually persuaded him to take on that role.
"I didn't want it, but she kept on asking, saying: 'Oh, you're like a son to me'," he recalled.
Sante Kimes wanted the dividends paid out by the Gulf Union Bank (Bahamas) liquidators to be paid into a trust account for her jailed son's benefit, and promised Mr Martin there would be enough money left over for him.
"Something did not add up," Mr Martin said, explaining that he became suspicious about why the money was in the Bahamas and where it had originated from.
Recalling how numerous properties Sante Kimes and her husband had lived in burnt down in suspicious circumstances, and her conviction for enslaving Mexican maids during the 1980s, Mr Martin began to question why they moved to the Bahamas.
He suggested it was because they wanted to escape a civil judgment against Kenneth Kimes Sr, plus the judgment in favour of the maids.
Other factors included the IRS and the fact "the insurance companies wanted their money back" from the fraudulent house burning payouts. Mr Martin also suggested that money stolen from murder victim Mr Kazdin might have ended up in the Bahamian accounts.
The California Superior Court on August 13, 2013, gave Linda Keyes, Kenneth Kimes Snr's daughter, the power to obtain the funds in the 'Kimes Motel' account for the benefit of his estate.
Opposed to this, Mr Martin told Tribune Business: "The money shouldn't even go to the Kimes. There are other claims deserving of this. Undeserving hands are about to get this money."
He expressed surprise that the Kimes' Bahamas' stash had only been discovered at this late stage, suggesting it might have resulted from the fact Bahamian authorities did not question them on banker Ahmed's murder after they were jailed in the US.
"I don't know why our officials didn't look into the money down there," Mr Martin told Tribune Business. "Maybe it was because the bank collapsed, or it was a different jurisdiction.
"But I would now think the US will step in and seize that, and put their proof to that."
Mr Martin added that he had "stepped away" from Sante Kimes and was no longer acting as her 'power of attorney', given that the content of her last communications had become "repetitive".
"I can tell you that the years in prison have taken a toll on her. I have no doubt about that. I have decided to step up and tell the authorities," Mr Martin said.
Mr Winder, Deloitte & Touche (Bahamas) managing partner, declined to comment on the matter