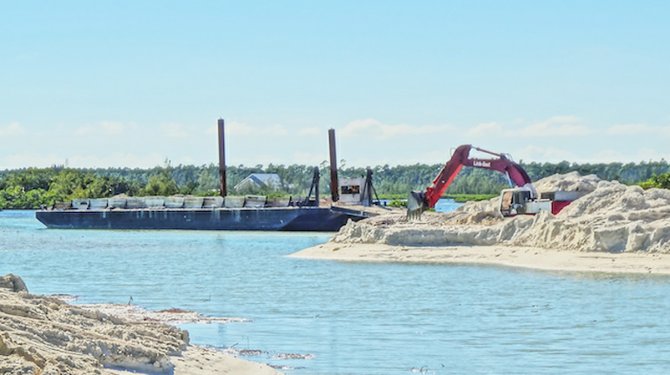 By AVA TURNQUEST
Tribune Staff Reporter
aturnquest@tribunemedia.net
TEMPERS mount in Abaco as residents and environmental agencies level frustrations over continued dredging by developers against a government order.
Despite the issuance of a "cease and desist" order, residents yesterday alleged that dredging has not stopped at the site of a proposed fishing lodge in Treasure Cay.
Bahamas National Trust Executive Director Eric Carey yesterday called on the government to act immediately to hold developers accountable for blatant "abuse of privilege", and disregard for a standard environmental process recognized in most coastal destinations.
Mr Carey also revealed that the BNT was actively considering establishing the area as a protected site.
"It's appalling, but what is most disconcerting about this is that we live in an age of information," he said. "A world where it's easy to share stuff, so the fact that this guy has been given a permit by some agency without an approved EIA is incredible."
Mr Carey said: "We need to have processes that get applied, standards that can stand up against each other across the board and are applied equally for all developers. The same conditions should apply whether you're talking about working in Bimini or Abaco, it makes no difference."
Meanwhile, developers claim they were given all government approvals necessary to begin the project.
Messages left for developer Tim Blakely, vice president of the Treasure Sands Club, were not returned up to press time.
In an interview with a local daily, Mr Blakely maintained that his company had been granted "full government approval", and added that he was only required to provide an environmental management plan before works commenced, but not an evironmental impact assessment.
According to a letter from the Bahamas Investment Authority, dated May 27, the Sand Bar Club and Spa was granted approval by the National Economic Council to develop a two-storey 12-suite hotel with related facilities on the eastern beach front; and to develop a Fishing Lodge with a mini pier; a 4-slip dock; picnic area; two tennis courts; two car parks; green areas; a yoga hut; nature trails and exercise tract on the western portion of the privately owned 9.2 acre property.
The development was "subject to the submission of an Environmental Management Plan (EMP) to the Ministry of the Environment and the BEST Commission, approval by the BEST Commission for dredging and approval of the license relative to land reclamation by the Prime Minister."
Mr Carey said: "A lot of us, we're not an anti-development agency. We understand that we need to create jobs and this comes at the expense of some impact on the environment. We're willing to work with the government, and offer advice from the wide network of experts that we have."
He added: "That's an area we are currently looking at creating a protected area, so it would have been useful to have the benefit of the environmental document to advise us as we go forward with plans to protect the area. The two are not incompatible, it seems like a small resort, the impact could have been looked at, agreed upon and managed.
"Cease and desist doesn't mean stop forever. It means stop, let us understand the concerns that people are expressing. Our staff on the ground is inundated with concerns by residents about this development."
In an open letter to State Minister for Investment Khaalis Rolle, resident Fiona Bootle said: "I would like to know why this work has not been stopped sooner, considering that this company Treasure Sands, do not possess a valid permit for the dredging being done. 
"It is to my understanding, after contacting the local Port Department and North Abaco Local Government Office that the plan which was passed and permit granted to Treasure Sands was only to accommodate the installation of a single dock and no dredging."
Mr Rolle did not respond to calls placed yesterday. In an interview with The Tribune on Monday, he confirmed that the government was looking into the matter.
Yesterday, Mr Carey dismissed the notion that the developer was unaware of environmental processes. 
"In 2013, should we as a country still be in this position that we can't have a basic development project take place without everyone having to have all these reactions? There is no need for this, it's totally unnecessary. 
"Abaconians," said Mr Carey, "do not stand for this sort of thing, and more Bahamians need to express this same contempt for an abuse of process and privilege. I don't like people taking the attitude that we will live and die by these investments. 
"Developers came here to make money, our environment is our stock in trade and that should not be taken lightly. Bahamian people must realize that we have to guard our heritage, take care of our environment and reject these unabated attacks."