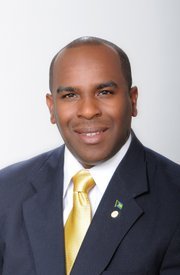 By AVA TURNQUEST
Tribune Staff Reporter
aturnquest@tribunemedia.net
NORTH Abaco MP Renardo Curry yesterday threw his support behind development underway at the site of a proposed Treasure Cay fishing lodge.
In a move some consider to be in direct conflict with the government, Mr Curry blasted the BEST Commission for dragging its feet in granting approvals for investors.
He charged that opposition to ongoing dredging in a creek near the entrance of Treasure Cay is politically motivated, adding that there was no reason to hold the project.
Last night, Chief Councillor for North Abaco Gary Smith fired back at the area Parliamentarian as residents met to form a local committee.
Mr Smith said: "When they moved Bahamasair out of Treasure Cay, he said nothing about it, told the people he knew nothing about it. Those were jobs, but yet he can go in Parliament defending this developer. I find it very interesting."
Earlier this week, Minister of State for Investments Khaalis Rolle confirmed that a cease and desist order had been issued to the Sand Bar Club and Spa after it was discovered that developers had begun dredging without requisite approvals from the BEST Commission.
Mr Curry said that developers have been waiting on a response to their environmental management plan for five months, adding that it was costing developers up to $10,000 per day to halt the project.
However, residents yesterday confirmed that dredging work continued at the site all day.
In the House of Assembly, Mr Curry said: "This investor followed all protocol, the only thing he is asking for is to seek to get approval to move forward, in doing that the only thing that is holding up is the BEST commission.
"How could you encourage investments in this country and you can't get an answer for a management plan for five months?"
He added: "If you talk about ease of doing business, the Bahamas continues to slip down the list and I believe this is the reason why. We don't take time seriously, time is nothing to us, time is money for investors."
Disputing claims that the project was fast-tracked, Mr Curry said it took the government nearly a year to approve the development.
Pointing to the history of the channel, Mr Curry said the area had been dredged in the past without permits to replenish the beach on the opposite side, adding that this was why an Environmental Impact Assessment was not required.
Mr Curry said: "A lot of the members down there, they play politics. They refuse to join us, join the investor to hear what is going on but they run to the papers. Nothing was done in secret, the investor followed all due diligence to try to seek approval the right way.
"I have to fight for my people, the jobs now are not available in the government sector. Where are we going to find them? We need new money."