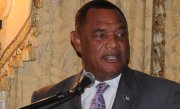 By RASHAD ROLLE
Tribune Staff Reporter
rrolle@tribunemedia.net
POLICE Staff Association chairman Dwight Smith is questioning Prime Minister Perry Christie's statement that he should go through proper channels to resolve the issue of overtime pay for police officers.
Mr Smith told The Tribune yesterday that he has been going through the right channels — without success.
"I don't think a 12-hour shift is something the commissioner or minister of national security would be able to help with," he said. "I have to do this by the law and only the labour department is responsible for things related to compensation for 12 hours of work. And who deals with pay in the public sector? The minister of finance."
Mr Smith wrote a letter to Mr Christie and Labour and National Insurance Minister Shane Gibson on October 11th, requesting a meeting to discuss compensation for officers who were put on a 12-hour shift in early September in an attempt to get crime under control.
Mr Smith told The Tribune last week that police officers are feeling abandoned and abused for having to work 12-hour shifts without compensation.
During his House of Assembly contribution on Wednesday, Mr Christie said: "The Police Staff Association president ought first, in my view, to consult his commissioner and have a meeting with his commissioner and most certainly his minister of national security. If he feels he has a case about a police matter that matter should be death with by them and then moved on to the minister of finance. But the mere thought that he could independently speak to the minister of finance on a matter without recourse to the minister responsible and the commissioner responsible, it is really clearly inconsistent with best practices."
In response, Mr Smith said: "Yeah I could go through the minister and the commissioner. I have done so and they haven't responded. The commissioner does not hold the pocket of the government."
Asked if the Police Staff Association would make good on its threats and pursue legal action against the government if they don't get a response from Mr Christie, Mr Smith replied: "I understand that we should soon be having some dialogues with the Ministry of Labour as it relates to compensation, despite the words of the public officials on the matter."