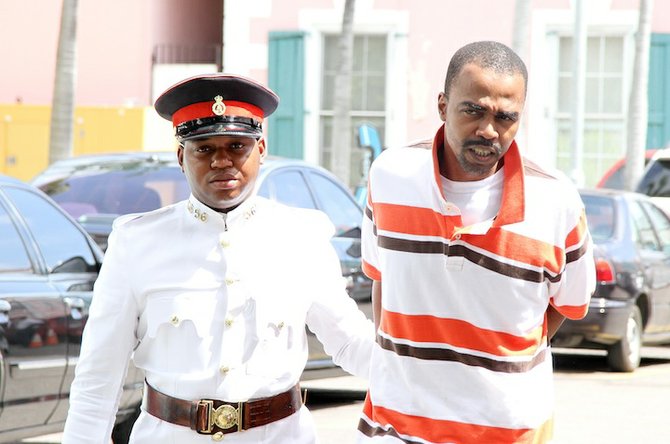 By LAMECH JOHNSON
KOFHE Goodman has today been sentenced to hang for the murder of Marco Archer.
Goodman sat in the prisoner's dock in the Supreme Court hearing crouched forward with his hands on his chin. He made no verbal reaction when the death penalty sentence was handed down.
Justice Bernard Turner said: "This case is a clear and compelling case for the ultimate sentence of death, to satisfy the requirements of due punishment for the murder of this child and to protect this society from any further predatory conduct by this convict at any time in the future.
"Kofhe Edwardo Ferguson Goodman, I hereby sentence you to suffer death in the manner authorised by law."
Marco's mother Tryphemia Meadows told The Tribune afterwards that the sentence wouldn't bring back her son, but at least Goodman 'won't be able to hurt anymore little boys.'
Goodman, 39, stood trial between April 17 and August 2 in connection with the murder of Marco Archer. He was found guilty despite pleading not guilty to the murder charge he faced.
Between September 23 and September 28, 2011, Goodman killed 11-year-old Marco Archer, of Brougham Street.
A death sentence, life imprisonment, and a 15-year prison term were the punishments Justice Bernard Turner was asked by counsel to consider in the sentencing.
Justice Turner said today the case for death was a compelling one - it warranted 'the ultimate sentence of death' - having taken into account the circumstances of the case and Goodman's criminal history - which had revealed his former victims of buggery and attempted murder were around the same age as Marco Archer.
Justice Turner signed the ruling sentencing Goodman to the death penalty and court was adjourned.
Goodman's attorney, Geoffrey Farquharson, indicated the intent to appeal conviction and sentence.
He asked the court to direct the Superintendent of Prisons to maintain his client's remand status pending the appeal application, rather than hold Goodman as a 'condemned man.'
Justice Turner said he would consider the application.