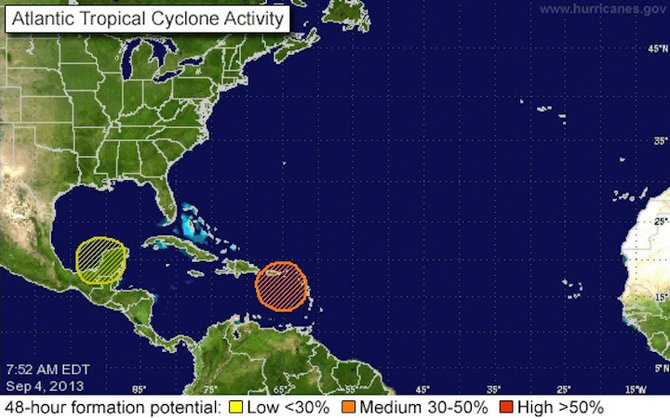 A SLOWLY brewing tropical system drenching part of the northeastern Caribbean has a chance at becoming a tropical depression or storm as the week progresses, according to AccuWeather forecasters.
The system is forecast to drift in a general west to northwesterly direction the next several days and could begin to affect the Turks and Caicos, and the southern part of the Bahamas this weekend.
Another system near Mexico's Yucatan Peninsula is also being monitored for potential development.
According to AccuWeather hurricane expert Dan Kottlowski: "If either of the two systems can avoid land, dry air and disruptive winds, they could become the next tropical storms within a few days."
The next two names on the list of tropical cyclones in the Atlantic Basin are Gabrielle and Humberto.
Regardless of development, the system in the northeastern part of the Caribbean will spread a risk of flash flooding and mudslides from the Virgin Islands to Puerto Rico and Hispaniola through the end of the week.
Today the system was located a couple of hundred miles southeast of Puerto Rico and was beginning to cluster thunderstorms near its centre.
Another system being monitored around the Caribbean is drifting slowly westward across Mexico's Yucatan Peninsula today.
The National Hurricane Center in Miami reported this morning: 'Cloudiness and showers associated with a broad area of low pressure centred about 200 miles southeast of San Juan, Puerto Rico, have
become a little more concentrated this morning. 'Environmental conditions appear to be favourable for additional development before the system interacts with the land masses of Hispaniola and Puerto Rico, according to the National Hurricane Center in Miami.
'This system has a medium chance, 40 per cent, of becoming a tropical cyclone during the next 48 hours as it moves northwestward at about 10 mph and a high chance, 60 percent, of becoming a
tropical cyclone during the next five days. Heavy rainfall and gusty winds are expected to spread over portions of the Leeward Islands, the
Virgin Islands, Puerto Rico and Hispaniola during the next day or two.'