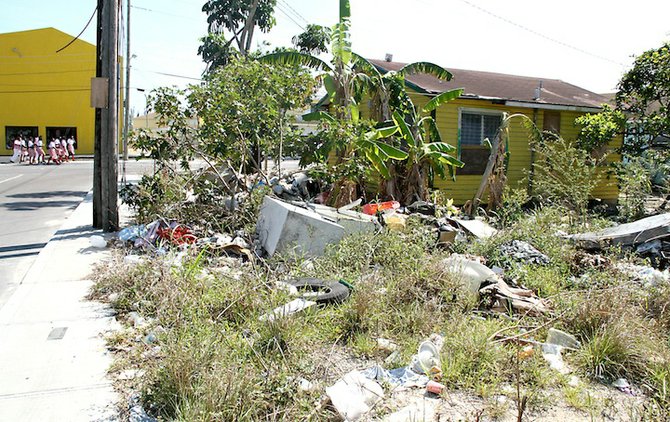 By DANA SMITH
Tribune Staff Reporter
dsmith@tribunemedia.net
THE private contractors hired by the government to collect garbage will be terminated if they are not performing as expected, Environment and Housing Minsiter Kenred Dorsett said yesterday.
Explaining that the outsourcing of garbage collection to private companies has saved the government money, Mr Dorsett however noted there have been instances of garbage collectors "missing street corners" as a result of unfamiliarity.
The minister said the government is still considering whether their move to hire private collectors – rather than the government taking control of the issue – will become permanent and has hired an independent consultant to assist in that regard.
"We don't have any DEHS trucks on the road. What you have now are private companies who are collecting garbage on behalf of the Department of Environmental Health Services," he said.
"I think one of the challenges that we have had and there was just a meeting this week with those who are engaged by us is there is a degree of unfamiliarity with certain routes. They've been missing street corners in certain instances and they don't understand that for some DEHS operators, we've been doing this for so long that we have relationships with the people whom we collect waste from, so they don't know to call out to the elderly woman who normally keeps her waste inside the yard, to go in there to collect it.
"It's just the nuances of the market that the private contractors are coming to bear with. But the good thing is, they are private contractors so if they're not performing, they will be terminated."
The minister said the government is "going to see how this works", explaining that private collectors represent a "cost saving".
"Clearly we're saving on fuel and some other things by utilising the services," Mr Dorsett said.
"We are going to engage in independent consultant to advise us on the entire framework so we as a government can understand whether or not we should invest $18 million in a new fleet to once get involved in the business or whether we should really allow the entrepreneurs to do it."
Private contractors are paid "a sum of money that is half the cost of the government doing so," Mr Dorsett said, when asked how much the government is paying the contractors.
He added: "In all routes, we now have private contractors collecting garbage simply because of the state of our fleet. We will determine if this is going to work well for us moving forward – whether it becomes a permanent feature or not. But for right now, they're the ones collecting the garbage on behalf of the DEHS."
If residents are noticing problems with garbage collection, Mr Dorsett said, they should contract either himself, personally, or the DEHS help desk.
"If you have a challenge with collection please report it to DEHS, immediately," he said. "We have a team of five persons who are dedicated to this process and so I would recommend that they call the Department of Environmental Health Services, hit me up on Facebook, whatever/however you feel you need to reach out, but let us know if you feel your garbage is not being collected on time – that's critical."