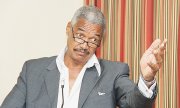 By NATARIO McKENZIE
Tribune Business Reporter
nmckenzie@tribunemedia.net
THE Bahamas Electricity Corporation's (BEC) accounts receivables currently stands at $120 million to-date, its executive chairman yesterday estimating that the utility monopoly would suffer a loss of $20-$22 million for its current financial year.
Leslie Miller, during a press conference to announce a two-week amnesty on electricity disconnections for BEC's residential customers, said that due to several cost-saving initiatives, BEC had realised overall budgetary savings of $3 million for the year to end-September 2013.
Mr Miller had disclosed back in March that BEC was, at the time, on track to lose 40-$50 million for the year that closes at the end of this month.
However, he said BEC had been able to significantly reduce its overtime payout, which had been averaging $12 million a year for the past five to 10 years.
"Due to methods such as rostering, flexi-time and a more streamlined approach to labour costs, we have managed to save some $5.89 million up to July 2013," Mr Miler said.
"We are hoping to have that reduced by another $100,000 or so, so that it could be drastically reduced by at least 50 per cent over what we met here last year.
"We also looked at the methodology in hiring temporary disconnectors. By simply revamping the previous pay scale we were able to hire 22 more Bahamians as disconnectors and reconnectors. BEC trained them and we continue to pay them decent wages, averaging anywhere from $400 a week and above."
The executive chairman added: "Our losses this year are now estimated to be around $20-$22 million. It wouldn't exceed $22 million. We have made a lot of changes and cut back in certain areas to make sure this haemorrhaging stops.
"The next problem we have is collecting funds wheere some people owe us as much as $12 million."
Mr Miller said several major companies had shut down in recent years, leaving large outstanding balances owed to BEC.
But operations such as Atlantis, which he praised as BEC's "number one customer", enabled it to meet its financial obligations.
"Without Atlantis, BEC would be in serious trouble," Mr Miller said. "Atlantis pays us, on average, $5 million a month. The lovely thing is they call us and say the cheque is ready, unlike the rest who you have to break down the doors and threaten to turn them off.
"Atlantis is our number one customer and we thank them for it. Rupert Roberts, locally, is our number one customer. Mr Roberts has about 12 stores each averaging $70,000 a month, and his bill is always up to date and we thank him for what he is doing. It's people like them who give us the cash needed to pay our bills."
Mr Miller added that the Corporation has only recently begun to collect electricity payments from residents on Inagua.
"We have been collecting arrears from Inagua residents who have not paid their electricity bills in a long time," he conceded.
"In fact, this is an issue that dates back 54 months. When we had the transition between Morton and BEC, no bills were paid. After our meeting with the residents last month we have already managed to collect more than $200,000 from that effort.
"The fault was really not their's; the fault was ours and Morton's because we took an inordinate amount of time to make the transfer and get everything back to speed."
Mr Miller said BEC was being challenged financially with other issues, such as electricity theft, copper thefts at its plants in New Providence and the Family Islands, as well as its contribution to its employees' - which he said was in excess of $12 million a year.
"The staff will be asked and mandated to make a contribution before the end of the year to their medical and pension plan," said Mr Miller.