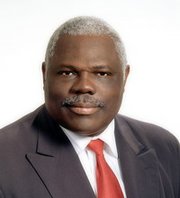 By NEIL HARTNELL
Tribune Business Editor
nhartnell@tribunemedia.net
The developers behind a $6 billion project have been forced into a fortnight's postponement of a key meeting with Prime Minister Perry Christie, but remain "highly confident" they can "put everything on the table" to satisfy the Government.
Ken Russell, the former FNM Cabinet Minister and ex-High Rock MP, told Tribune Business the planned September 10 meeting at the Prime Minister's Office had been pushed back until the 23rd this month after a key player in the project was unable to meet the initial date.
Mr Russell, who has effectively acted as the principal spokesman for Kylin International, the lead developer behind the proposed Blackwood Pointe Resort & Spa project, told Tribune Business he remained "confident" the developers could satisfy the Government's concerns over whether they have the necessary financing.
While disclosing that the planned level of investment in Grand Bahama's East End had been scaled back, from an initial $7.5 billion to a current sum just over $6 billion, Mr Russell said the developers were projecting that every permanent job at Blackwood would create another three in the wider economy.
Based on Mr Russell's estimates that Blackwood Pointe will create between 6,000-10,000 full-time jobs, it thus appears the developers are forecasting that the spin-off impact will generate another 18,000-30,000 employment opportunities.
"It will have a tremendous impact," Mr Russell told Tribune Business of Kylin's plans. "Grand Bahama will be fully employed, along with lots of other islands, who will also see full employment.
"Upon completion we're looking at 6,000-10,000 full-time jobs. For every job we create, there will be another three jobs in the community."
Kylin and its partners, who are said to include Fairmont Hotels, owner of New York's The Plaza property, and hospitality firm Cipriani, are proposing to construct seven hotels and 2,700 rooms on a 'greenfield' site in eastern Grand Bahama.
Other amenities confirmed by Mr Russell include a cruise ship port, marinas, multiple tourist attractions, sporting facilities, a liquefied natural gas (LNG) power plant, water and sewerage plants, and manufacturing facilities.
The project, though, appears yet to have caught the imagination of a Bahamian public who appear largely 'deal fatigued', having grown weary of numerous other developers making grandiose promises and failing to deliver.
Tribune Business previously reported how both the former Ingraham administration and Hutchison Whampoa, Grand Bahama Development Company's (Devco) managing partner, were extremely sceptical that Kylin could raise the necessary project financing when it looked at developing the Sharp Rock site within the Port area.
The company, which is headed by Lawrence McDonough and his Chinese-born wife, some of whose family hold senior positions within the Beijing government, was initially scheduled to hold a pivotal meeting with Mr Christie and his key officials this summer.
Among the key issues for discussion was for Kylin to provide proof of financing, and no more was heard of the planned meeting with the Government until Mr Russell announced the September 10 date.
Mr Russell, though, brushed aside any concerns over whether Kylin's project would receive the necessary financial backing. Indicating that the funding was coming from China, which has substantial surplus assets available for overseas investment, the former Minister urged persons to "research and understand how money is borrowed in China".
"I am totally confident that we have everything we need, and when we meet at the PM's Office we will put everything on the table," he told Tribune Business.
And numerous observers have questioned why Kylin would select Grand Bahama's East End for its ambitious project, given the almost total absence of the kind of infrastructure it would need.
The development, which requires a significant amount of Crown Land if it is to succeed, faces having to invest hundreds of millions of dollars to put in the necessary roads and utilities from scratch.
Yet it would not face such costs in either Freeport or West End, the latter having the platform provided by Bobby Ginn's $200 million-plus infrastructure investments. One source close to developments at West End told Tribune Business that Kylin probably could have bought out the two owners – Lubert-Adler and the Credit Suisse-led lending syndicate – for a combined $60 million.
When asked by Tribune Business why Kylin had opted to focus on East End, rather than Freeport or West End, Mr Rusell laughed and replied: "I hear you.
"It's because when we looked at what we wanted to do, East End was the best location. It worked. That's all it is. We looked at Sharp Rock first, and where we are looking in East End is similar to Sharp Rock."
Tribune Business previously revealed that Kylin initially targeted a $1 billion development in the Sharp Rock area of Freeport before focusing on eastern Grand Bahama.
The Sharp Rock development, as originally conceived, was contingent on acquiring 2,000 acres, at a purchase price of $100 million, from a combination of Devco and Port Group Ltd, the latter being the GBPA's sister company and affiliate.
A copy of the original 2010 Kylin submission to the Government, which has been obtained by Tribune Business, talked of constructing five luxury hotels, a cruise ship port, Blue Flag Marina, and gaming, retail and restaurant facilities.
"Kylin will invest more than $1 billion in the physical development of the resort," the submission said. "It is anticipated that the resort will employ over 5,000 staff.
"Kylin has negotiated a construction loan commitment in the amount of $1.5 billion from Beijing Construction-Engineering Group. While an agreement in principal has been reached, the loan commitment is contingent upon the approvals of the Port Authority and Government of the Bahamas."
Tribune Business sources previously confirmed that when Hutchison attempted to do due diligence on Mr McDonough, several details – including an address given for an office on the outskirts of Shanghai – did not check out.
This, though, has been disputed by other Tribune Business sources, who have informed this newspaper that all the details and promises given by Mr McDonough to-date – including the office address – have been confirmed and fulfilled.
Kylin's project is also similar in size and content to several other developments proposed for the same site in East End, and which came to nothing. The first candidate was the Boucan (Bahamas Golden Beach Development), with the second being the proposal by Dan Evans's Beka Development.
"Yes, there are similarities," Mr Russell acknowledged, "but those other projects did not have the airport component; they did not have the power plant; they did not have the cruise ship component."
He added that Kylin and its partners were proposing an LNG-fuelled power plant because they did not want to "suffer" the high electricity costs charged by Grand Bahama Power Company, which have been blamed for killing off many businesses in Freeport.
"Our goal is to supply ourselves and others at much cheaper rates than Grand Bahama Power," Mr Russell told Tribune Business. "We've had people leaving the Port area and complaining about the cost of electricity. Why should we suffer the same thing that has caused others to fail?"