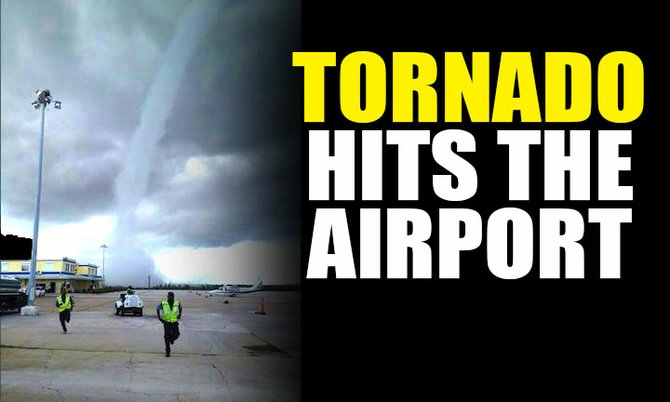 Send your weather photos to mbiddle@tribunemedia.net
• THE Lynden Pindling International Airport has reopened after being closed temporarily due to severe weather.
• A TORNADO formed briefly over Lake Killarney this afternoon, according to a meteorologist at the Lynden Pindling International Airport.
"There was a water spout that fell over a tornado that lasted a few moments before dissipating," the meteorologist said.
No one is believed to have been hurt, he said, adding that a severe weather warning (SEE BELOW) was about to be issued for residents in North Andros and New Providence.
Advising persons to remain inside and boaters to remain in ports, he said a weather system is expected to bring "heavy rainfall, thunderstorms and gusty winds."
• SEVERE THUNDERSTORM WARNING:
THE BAHAMAS DEPARTMENT OF METEOROLOGY HAS ISSUED A SEVERE THUNDERSTORM WARNING ON TUESDAY 17TH SEPTEMBER 2013 FROM 2:45PM EDT UNTIL 5:00PM.
A SEVERE THUNDERSTORM WARNING IS IN EFFECT FOR THE NEW PROVIDENCE, NORTH ANDROS AND THEIR ADJACENT WATERS.
AT 2:39PM AIR TRAFFIC ALONG WITH METEOROLOGICAL OBSERVERS OBSERVED THE DEVELOPMENT OF A FUNNEL CLOUD AT THE AERODROME NEAR THE GENERAL AVIATION CENTER AT LYNDEN PINDLING INTERNATIONAL AIRPORT .
OBSERVATION, RADAR AND SATELLITE IMAGERY SHOW CLUSTER/LINE OF THUNDERSTORMS JUST WEST OF NEW PROVIDENCE.
SOME OF THESE THUNDERSTORMS WILL BE SEVERE AT TIMES CAUSING STRONG GUSTY WINDS, DANGEROUS LIGHTNING, HEAVY DOWNPOURS, HAIL AND POSSIBLE WATERSPOUT OR TORNADIC ACTIVITY.
AIRMEN AND BOATERS AND IN THE WARNING AREA SHOULD SEEK SAFE HARBOUR AND RESIDENTS IN THE WARNING AREA SHOULD STAY INDOORS AND AWAY FROM WINDOWS WHEN CONDITIONS WORSEN. RESIDENTS SHOULD NOT SEEK SHELTER UNDER TREES OR IN WATER AS THESE CAN BECOME LIGHTENING CONDUCTORS.