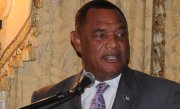 By AVA TURNQUEST
Tribune Staff Reporter
aturnquest@tribunemedia.net
THE struggle to legislate equal opportunity for disabled persons moved a step forward today as the government announced plans to sign on to international conventions and introduce new legislation before the year end.
Prime Minister Perry Christie yesterday announced that the government will establish a database for all disabled persons in the country in a bid to guide reform and improve state services, a move that activists hope will bring relief to a more than 20-year long fight to end discrimination.
Townsley Roberts, president of the Bahamas National Council for Disability, said: "We have long fought to be accepted and to be seen on an equal level as all Bahamians.
"Signing on to this convention is a step forward that will allow us to play a greater role in this society, to be able to reach our potential. People look at us as being disabled, but we can offer the same things that abled bodies can. We want the same rights to be able to work, to have families, to live independently."
The renewed commitment to creating a "just society" comes as Social Services Minister Melanie Griffin prepares to lead a contingent to sign on to the United Nations convention on the rights of persons with disabilities next week.
Also in the pipeline is a joint initiative to establish a training school for disabled adults, with the government now looking at similar models in the region.
Mr Christie said: "There have been new developments in the area of mental health and we have children with varying degrees of disability and the great difficulty for the education system is that you can't go much further and not know who those children are and to what degree they are suffering from learning disorders. We have to know, there is a massive need to know so that we can very effectively respond to what exists."
He added: "We are determined not to waste any further time in this matter. We want to agressively move forward."
The UN convention on the rights of persons with disabilities was adopted in 2006, and opened for signature the following year.
Mr Christie said: "Governments have to consult the private sector because there has to be a major transformation not just of attitudes but of physical things, sidewalks, the entry to buildings, elevators, and there has to be a paradigm shift in terms of building approvals, because the commitment will be recognizing and institutionalizing the recognition that there are people who are different to some of us and all of us are entitled to be accommodated. 
He added: "The commitment is one that sometimes represents great expense to a society."
The government does not have any indication of how many disabled persons are in the Bahamas, according to Ms Griffin, who estimated that the group represented more than 15 per cent of the population.
New legislation will provide for the registration of disabled persons, and has been given a deadline for December 3, the international day for persons with disability.
Ms Griffin explained that disabilities legislation tabled by the former administration was overhauled to allow for simpler language and wider consultation with the public. 
Anton Munroe, president of the Bahamas Alliance for the Blind and Visually Impaired, said: "It's about 20 or more years persons with disabilities have been fighting for legislation. I think this is a good step in the right direction. It will enable us to gather information so that we can build programmes, we have the ideas for the programme, but always the issue of not knowing how many persons [are in need]."