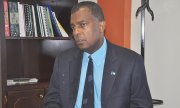 By DANA SMITH
Tribune Staff Reporter
dsmith@tribunemedia.net
THOSE who call for the introduction of a national identity card "must also understand there are civil liberty implications" that can arise as a result, Foreign Affairs and Immigration Minister Fred Mitchell said yesterday.
Such implications, he explained, could include being stopped on the street at any time and asked by authorities to show a national ID card as proof of legal residency.
It was last Thursday that National Security Minister Bernard Nottage said "the time has come" for the country to consider the introduction of such a card, considering the Bahamas' long-standing illegal migration problem.
The implementation of a national identity card was one of 52 suggestions at last month's Crime Listening Forum. The official government response labelled this idea: "An excellent suggestion that is currently being reviewed for possible implementation."
Said Dr Nottage: "We think the time has come for us to consider the introduction of an identity card where we can – if people are required to carry it, we will know who is a citizen and who is not a citizen, and who is here illegally and who is not here illegally.
"This would cause them and us to be more aware of the size of the problem that we have and hopefully to be able to bring some positive action to dealing with this whole problem of people who are in our country, illegally – this question of trafficking in persons, human smuggling, and, of course, enable us to be able to deal with them."
Speaking yesterday, Mr Mitchell noted that the introduction of some form of national identification documents was one item he had previously discussed in his mid-year budget statement given the "anxieties" of the Bahamian public regarding migration enforcement.
"It meant that you would have to have some kind of national identity document. I said that," Mr Mitchell said. "People were running off the deep-end about maids and labourers and so on and so forth, but not about the details of all the specific things that were said in that statement.
"What I said is, when people call for this, they must also understand there are civil liberty implications to these things. Because what it means, essentially, if you want more enforcement, people have to get used to the idea of being stopped on the streets and being asking: 'Do you have an identity card?' Or something which identifies you with being in the Bahamas."
If the problem is undocumented migrants in the country and wanting to be sure everyone has some documents which identifies their legal right to be in the Bahamas, then "one idea" would be a national identification document, Mr Mitchell said.
"Now obviously there has to be a lot of discussion about that because that takes things to a whole 'nother level in the country," he continued. "But you know, I always say, be careful what you ask for. Immigration is a blunt instrument, there's no subtly to it, it's a law enforcement procedure. We need to bring it under control and so various measures are going to be advanced to try and bring that agenda forward."
When asked if he would support a national ID card, the minister said: "I don't want to go so far as to say I personally support it. What I am saying is there are a range of policy initiatives that can be advanced – one of them is that. The question is, which way the public goes with it. It's something that I think people can live with, but you have to determine that that's what you want to live it."