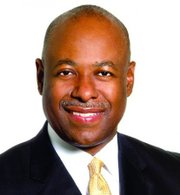 By LAMECH JOHNSON
Tribune Staff Reporter
ljohnson@tribunemedia.net
TOURISM Minister Obie Wilchcombe suggested yesterday that Bahamians will end up suffering for the latest actions of the Miami-based Cuban exile group Democracy Movement who seem intent on harming the Bahamas' reputation and economy.
Responding to the group's intent to submit a report to the Inter-American Commission of the Organisation of American States (OAS) regarding the Cuban detainees issues, which is still being investigated, Mr Wilchcombe called their promised intentions "unnecessary."
"The Bahamian government is doing what has to be done, as there is a process," he said.
"The minister has assured that investigations are underway, but what they are doing is attacking our country unnecessarily and making the Bahamian people suffer for it."
"The impact this will have on our economy will not be good and I think it's so totally wrong."
Previously, the movement said there were plans to stage demonstrations at airports in Florida with flights to the Bahamas.
The Movement also revealed it met with Carnival Cruise Lines and wanted to speak with the Genting Group Royal Caribbean International.
Mr Wilchcombe yesterday defended the Bahamas' reputation built up over the years concerning the respect and defence of human rights and claimed that, by the
Movement's actions, they were trying to recharacterise the Bahamas' reputation.
The minister also noted that it was clear the group wanted to cause a rift between the Bahamas and Florida, a state where Bahamians spend up to $1 billion annually.
"I think and hope that Bahamians protest this," he said.
On Sunday, Foreign Affairs Minister Fred Mitchell insisted there has been no fallout for the Bahamas' reputation due to the controversy.
"My judgment is that there has been no impact and there is no fall-out. This is a matter that is largely confined to Dade County and Broward County in Miami," Mr Mitchell said.
"It is driven in part by the continued fascination which the local press appears to have for this matter and are really giving these people more light than they deserved.
"They have engaged in what appears to be economic blackmail of this country and we simply can't support it on that basis and those are just the facts."