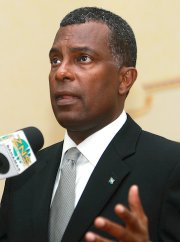 By SANCHESKA BROWN
Tribune Staff Reporter
sbrown@tribunemedia.net
FOREIGN Affairs Minister Fred Mitchell has ordered an investigation into the possibility that Cuban migrants are entering the Bahamas intentionally in an attempt to "destabilize our country."
This comes after 13 Cuban migrants were apprehended in waters near Cay Sal on Sunday. The 10 men and three women, add to 20 illegal Cubans that have been interdicted in Bahamian waters in the past few weeks.
Earlier this month, 14 Cubans were found in waters near Bimini. Two weeks before that six Cuban men were found in waters near Cat Sal Bank. The men were apprehended by the U S Coast Guard but turned over to Bahamian authorities shortly after their capture.
Five of them have since been repatriated to Cuba.
Mr Mitchell, in a statement, said he has instructed officials to begin investigations in both the Department of Immigration and the Department of Foreign Affairs to address the increase in apprehensions.
"Last night I learned to my chagrin that another 13 Cubans have been interdicted by the Royal Bahamas Defence Force in Bahamian waters. These illegal migrants are to be transported to Nassau for processing before their return to Cuba," the release said.
"This morning (Tuesday) I have instructed the public officials at the Ministry of Foreign Affairs and the Immigration Department to immediately review this and the other recent interdictions, including formal contacts with our immediate neighbouring countries to see if there is any connection to criminal elements in those countries seeking to destabilize our country by
encouraging people to breach our borders by leaving Cuba and entering The Bahamas illegally."
This twist comes after the Cuban exile group – Democracy Movement – threatened to meet with the Organization of American States if a report detailing the alleged abuse of detainees at the Detention Centre was not released.
However, despite months of protesting, Mr Mitchell said the Democracy Group has not had an impact on the Bahamas' economy.