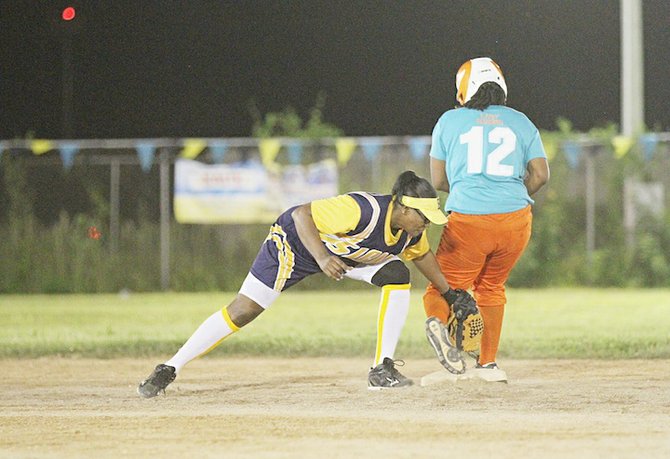 By BRENT STUBBS
Senior Sports Reporter
bstubbs@tribunemedia.net
THE Sigma Brackettes and the Arnette's Sporting Lounge Hitmen are right where they want to be - in full control of the New Providence Softball Association ladies' and men's best-of-seven championship series.
On Saturday night at the Baillou Hills Sporting Complex, the Brackettes put together two solid innings that were enough to help propel them to an impressive 12-4 rout over the pennant winning Proper Care Pool Lady Sharks for a 2-0 lead in their series that is slated to resume Tuesday night.
Following that, the Andre Gardiner Construction Buccaneers gave the Hitmen all they could, but Arnette's Sporting Lounge still managed to come out with a hard fought 7-4 victory to also go up 2-0 in their series that is also scheduled to continue with game three on Tuesday.
Brackettes 12, Lady Sharks 4
While Sigma's infielder Shervette Taylor is predicting that this series is over, Proper Care's shortstop Tareka Munroe said they're not yet ready to concede defeat or throw in the towel.
"We did excellent. We came out and stepped up our game and we moved from a different level from the way we played in the regular season," Taylor said. "Instead of playing that same old style that we did in the regular season, we moved up a notch. We are planning on sweeping them in four straight games."
Taylor said their goal is to get rid of the Proper Care as early as they can so they can get ready for the Bahamas Softball Federation's national round robin tournament that is due to start at the end of October.
But Munroe said despite losing, they played much better than they did in game one, so they are still confident that they can come back in the series.
"We are using just one pitcher, but she's been performing. Our outfielders and our infielders don't seem like we want it as bad," she said. "But we're going to come back and what's going to show everybody what the Sharks are made of. They are talking about sweep, they will never see it."
While there's still time to determine if there will be a sweep or not, fans were treated to an exciting game that started with the Lady Sharks turning a triple play on the Brackettes in the bottom of the first inning with the bases loaded as Alex Gabriel came in to replace starter Rochea Morley after she loaded the bases.
Ruthann Simms hit a line shot to Gabriel, who picked off Taylor at first on the second out and Kelly Smith threw the ball to Munroe as she got Zella Symonette off the bag at second. Ann Bullard was on third with an opportunity to score when the TP was produced.
After giving up a run to Theola Williams, who got to first on an error, eventually stole third and came home on a passed ball, the Lady Sharks stopped another run-producing inning for the Brackettes in the third on a double play. After Bullard grounded out, Symonette walked, but Taylor popped up to Kelly for the second out and then she caught Symonette off the bag at first for the DP.
The Brackettes put the game out of reach in the fourth when they came up with five runs on five hits, highlighted by back-to-back RBI doubles from Ashanti Darville and Shequel Smith, a RBI single from Krystal Delancey, a double from Bullard and a two-run single from Symonette as they batted around the clock.
Holding a 6-2 lead, the Brackettes took advantage of three more hits for five runs to extend their lead, sparked by Shequel Smith's two-run single and Bullard's two-run double as they again batted around the clock.
The Lady Sharks, who had scored a run in both the third and fifth innings, got two more runs in the sixth on a two-run double from Vonetta Nairn.
Ernestine Butler-Stubbs went the distance for the win and Gabriel was tagged with the loss.
Hitmen 7, Buccaneers 4
After giving up three runs in the bottom of the first inning, Arnette's Sporting Lounge responded in the second by putting four runs on the scoreboard. Andre Gardiner then added another run in the second to tie the score at 4-4. It remained that way until the fourth.
The Hitmen got two runs from Geron Sands and Richard Bain as Hosea Hilton got a RBI single. They added their final run in the sixth on Jameko Sands' run-producing single that drove in Alcott Forbes.
While Forbes settled down to hold the Buccaneers scoreless on three hits over the final five innings for the win, the Hitmen had to play against three opposing pitchers, starting with Avery Rolle through four innings, Deval Storr for two innings and Thomas Davis to close out the seventh.
But that didn't make much difference for the Buccaneers. Hitmen's versatile batting champion Sherman Ferguson said they have a mission and that is to add the championship title to their pennant.
"We're slowly coming together piece by piece," said Ferguson, who moved from shortstop to centre field, due to the absence of William Delancy. "We knew that they were going to be a little more aggressive than game one. But we are confident that they can't beat us, so we were not too concerned."