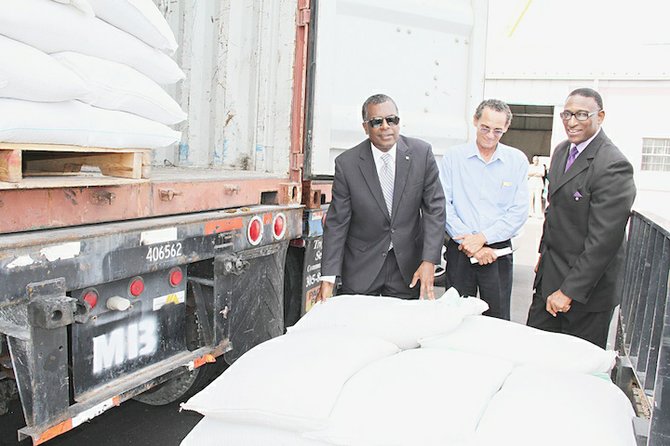 By RASHAD ROLLE
Tribune News Network
rrolle@tribunmedia.net
CLOSE to $500,000 worth of "high grade phosphate" fertilisers have been donated to the Bahamas by the Government of Morocco and is now available for purchase "at a very reasonable price," two government ministers announced yesterday.
Foreign Affairs and Immigration Minister Fred Mitchell considered the donation a reflection of the "strong relationship" between the Bahamas and Morocco while Agriculture and Fisheries Minister V Alfred Gray emphasized that agriculture will be treated with "particular importance" under the Christie administration.
Explaining how the donation came about, Mr Mitchell said diplomatic relations and technical cooperation agreements between Morocco and the Bahamas were first struck in 2012 at a conference in Casablanca regarding "the situation in Syria."
"One of the reasons that we were interested in this is that the Bahamas is a country searching for new sources of capital and technology," he said, adding: "The Moroccans offered to deliver to us fertilizers. They are among the largest producers of fertilizers in the world and they also offered us scholarships to their institutions for students."
Mr Gray added: "I cannot speak to how important this gift is to the development of agriculture in this country. There cannot be any serious farming in any country in any material way if you leave out fertilizers as part of your input. With several hundred tons of this wonderful fertilizer behind us, and with the agricultural thrust of the Government, I think it is a timely gift. We will certainly use most of it in Andros at the agriculture school, but I believe it will be sufficiently correct of me to say that we now have enough fertilizer to fertilize the entire Bahamas in terms of those who are wiling to get involved in farming."
Mr Gray added that the fertilizers will be sold at a "very reasonable price" to cover freight costs to bring them to the Bahamas.
"Over a period of time we will certainly use every bag of it and I invite those from around the Bahamas looking for fertilizers at a very reasonable price to come," he said. "Quite frankly we are just going to sell it to pay whatever the freight cost is. It was a gift to us so we don't want to turn around and sell it but whatever the government's cost might've been to clear it in terms of freight, we will put a little thing together for those who are interested in getting it."
Mr Gray said that one bag of this premium fertilizer could regularly cost up to $2,400.
"And if we have several hundred tons," he said, "that tells you this is probably very close to five hundred, six hundred thousand dollars worth of fertilizer."
People interested in getting the fertilizers are urged to contact Simeon Pinder, the Director of Agriculture.
Mr Pinder, while contextualizing the country's need for quality fertilizers, said: "One of the most limiting elements here for agriculture production is the availability of phosphates of a type that is among the most limited in terms of production in the Bahamas. Phosphates and limestone do not react well together. In fact, what the limestone does is it makes the phosphate unavailable. Any opportunity to add additional phosphates is certainly a plus to any type of production, whether you are doing vegetables, fruits, etc. This is the best grade phosphate that you can get. It's a significant quantity and will benefit a lot of people."