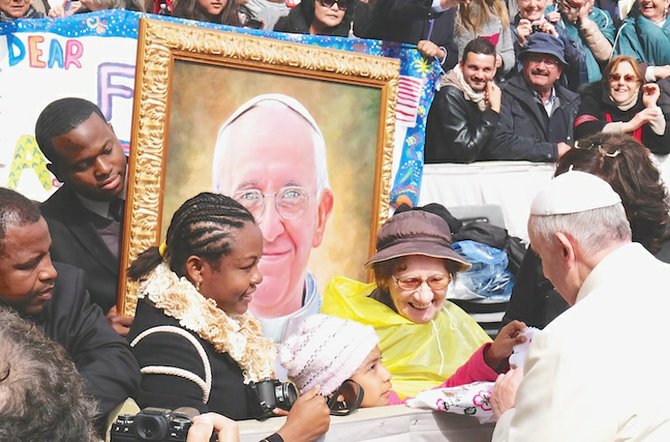 By CARA BETHEL
cbrennen@tribunemedia.net
Celebrity Artist and Tribune Cartoonist  Jamaal Rolle can cross off another major event on his bucket list - presenting a portrait to Pope Francis during a papal audience in Vatican City.
It was truly a once-in-a-lifetime experience for the young artist, who has already presented some of the world's most famous people with copies of his work.
"This all happened when I had what was an epiphany to paint the Pope. I don't know what it was, but it was just so strong in my head that I had to obey it.
After working on the 30x40 oil portrait for several weeks, Jamaal was determined to present it to the Holy Father.
An opportunity presented itself when Papal Nuncio Nicola Girasoli visited the Bahamas in February for the Pontifical Mission Meeting  and was so impressed when he saw the portrait that he immediately agreed to arrange a papal audience for Jamaal.
The Garazroli  family of Graycliff restaurant also helped the young artist to complete the journey by providing an introduction to Dr Roberto Savio, a prominent figure in Italy, who was born in the Pope's home country of Argentina and arranged for the portrait to be framed in Italy.
"It was not easy to let go of my portrait says, Jamaal, "But we Fed Exed it and it got there safely. Dr Savio had arranged for Mario Rosario who specialises in restoration to take care of the portrait and she chose a chestnut wooded frame that was carved in an  ornate design and painted in gold. It was the perfect frame."
Jamaal traveled to Italy on March 23  with his publicist, Azaleta Ishamel-Newry, for what he says was an experience of a lifetime.
The first day of the trip included an exclusive tour of the Vatican including the Apostolic Palace, the offical residence of the Pope, with  Monsignor  Girasoli.
"We were able to go on the High Balcony and see all of Rome it was breathtaking, he said.
The following day, the pair were escorted to the VIP section for the audience which unfortunately had to be cut short due to inclement weather. This pre-empted the private meeting which was originally planned.
"Although I was not able to shake his hand, because of the rain and the amount of people he did acknowledge my painting when one of his guards took it from me and showed it to him. It was a proud moment not only as an artist but as a Bahamian,"he said.
"I was honoured and elated that we made it to see Pope Francis in person and to know that my portrait was presented in a place where the works of  great artists like Michelangelo and Leonardo da Vinci's works are admired."
Jamaal said he hoped that the experience can inspire other young people to follow their dreams even if they seem impossible.
"Act on it, and don't accept the status quo, and never let your geographical location hold you back."
Jamaal says  he would never have been able to make the journey to Vatican City without the assistance of the Rotarians, Sir Durward Knowles, Ralph Barnett, Alain Torchon-Newry, Andy and Carol O'Brien,  Angela Achara, Anthony Adderley,  Ashley Cartwright-Rolle, Basil and Marlene O'Brien, Branville and Lisa McCartney,  Eleanor Garraway-Philips, Fred Albury, Enrico at Graycliff, Annamaria and Paulo Garzaroli, Archbishop Nicola Girasoli, Ian Bethell, James Lyle, John Armstrong, Julian Smith, Kate Seiler, Lady Darling, Metta MacMillian-Hughes, Mike and Sally Oldfield,  Odley Artis, Pedro Roberts, Ralph Barnett and Samira Coleby.