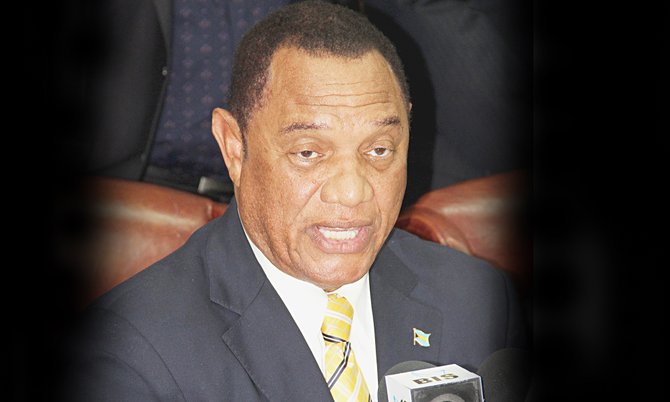 By SANCHESKA BROWN
Tribune Staff Reporter
sbrown@tribunemedia.net
THE home of VAT co-ordinator Ishmael Lightbourne yesterday had new locks fitted and the family were seen taking boxes away from the property – despite Prime Minister Perry Christie's intervention to try to prevent the bank from taking possession of his home.

The news came on the same day that Mr Christie had said that Mr Lightbourne was not the only Bahamian that he has helped to save their home. In fact, he said, he has helped about "three or four" other families since the Lightbourne case.
Last month, Mr Christie revealed that after learning about Mr Lightbourne's financial situation, he called the managing director of a local bank and asked her what he "as Prime Minister" could do "to stop (Mr Lightbourne) from being put out of his house today?"
In response, critics and opposition members condemned his intervention as an inappropriate "abuse of power", one that is not done to aid other Bahamians who also face home repossession.
However, speaking at the Chamber of Commerce Growth Forum, Mr Christie said in his capacity as Prime Minister he has helped hundreds of people in many different ways.
"Since this thing with the bank, I have helped about three or four other families. Prime Ministers have an obligation in a country to understand that we must establish a culture of good relationship with the financial community. It is trite to believe that a prime minister separates himself and helps one person," he said.
"I help hundreds, and please tell them if they have them lined up who need some advice, send them all. Send them all. Let them see that I govern myself with both head and heart and have a day-to-day relationship with the financial community where there is mutual respect and understanding and any involvement on my part is to help the bank, not just the individual."
Despite the Prime Minister's assistance, The Tribune understands the bank changed the locks on Mr Lighbourne's home yesterday morning and he and his family were seen leaving the property with large boxes. Whether he was evicted is still unknown.
When he spoke in Parliament last month, Mr Christie said his only regret when it came to Mr Lightbourne was that he "significantly" underpaid him compared to foreign consultants.
 Mr Christie said: "I knew he was challenged and didn't have any money. I knew he had descended to the bottom, one who had been at the top and I knew he was entirely to blame for the error of judgment that he made. But this is a man with a wife and children, a wife who was grievously ill. I called the managing director of the bank and asked the managing director, she was travelling, I said please call me. She called me. (I said) what can I do as prime minister to stop this man from being put out of his house today?"
He said Mr Lightbourne has made arrangements with the tax office to settle his liabilities within a reasonable time frame.