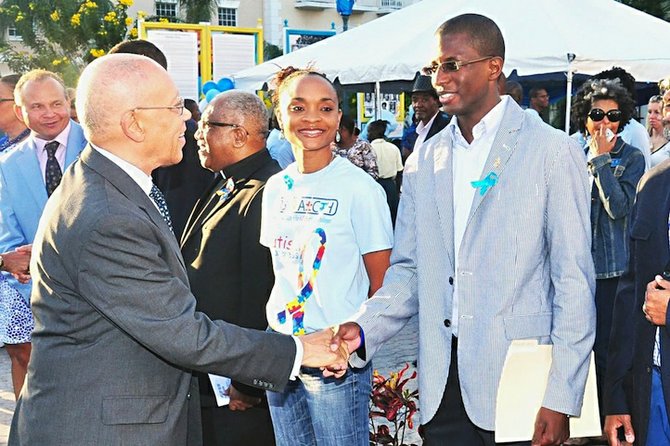 By ALESHA CADET
Tribune Features Reporter
acadet@tribunemedia.net
PARENTS came out last Wednesday with their autistic children in support of the "Light It Up Blue" event in Rawson Square to show the country that they exist and are not so different from other Bahamian families.
Hosted by the Bahamas Resources and Education Source For Autism Related Challenges (REACH), the second annual 'Autism Speaks' ceremony included performances and presentations by a number students of local primary and special needs schools.
Proud and pleased to have their children take part in the memorable day, two parents with autistic children spoke to Tribune Health at the event to share their thoughts.
"I am a parent of an autistic son, 20-year-old Jonathan Gaitor, and I have been a part of REACH for about 15 years," said Raymond Gaitor.
"I do whatever I can to raise awareness everywhere that I go and I talk about him because he is just an amazing child. Being apart of REACH for all these years, I have seen the group expand in so many ways."
Mr Gaitor said now when meetings are called for parents and volunteers of REACH, they quickly run out of space to accommodate everyone.
"Now people are coming out to share their stories about their child and sometimes there are a lot of tears in the room. We don't encourage tears, but it just happens because everybody's story is different and they know about the struggle that we go through with our kids," said Mr Gaitor.
He said one of the things they try to do at the REACH support group meetings is to encourage parents and relatives with autistic children to take the kids outside and not keep them inside of the house.
"With an event like this that has the backing of the leader of the country (Prime Minister Perry Christie), people would not feel so isolated anymore. They will feel more encouraged to bring their kids out. Jonathan graduated from Anatol Rodgers High School (vocational programme) last year and he is able to do a lot of things. He loves learning different languages and using his hands. Right now he volunteers at Willard Patton, a preschool for challenged kids. That is something he said he likes to do, helping children," said Mr Gaitor.
Mr Gaitor said REACH sponsors a summer school every year where Jonathan enjoys working along with the teachers and students.
"He is also an excellent swimmer so he helps with that, setting up the classrooms and assisting in the playground," he said.
Maria Wells, another REACH support group member and parent of 11-year-old Reginald Arthur Joseph Wells, said she willingly adopted her son knowing he was going to have challenges. Ms Wells said she is a proud parent of an amazing autistic child.
"I became involved in REACH last year and it was a suggestion of a junior doctor because our world had shrunk. My husband and I, we isolated ourselves thinking we were the only ones with an autistic child. We began to be criticised a lot when we would go out to dinner where people would say he misbehaves and he blurts out things. We began to close ourselves in," said Ms Wells.
After joining REACH, Ms Wells said a whole new world opened up to her and her family.
"It is a truly non-profit organisation made up of volunteers and parents of children who have autism. We have a support group that meet up once a month, where everybody is welcomed. People open up and speak about the challenges we face at schools and society itself. We have come together and support each other," she said.
Ms Wells said she cannot express how important last week's event was to the autistic society. She said events like "Light It Up Blue" make people aware that people like them do exist.
"We want them to know that even though our children are different, it does not mean that we are a world apart. We want to be treated with equality and we want to be able to go to a restaurant and not be judged by the behaviour of our children," she said.
"There are some families that are ashamed, but we encourage them to come out because it is many of us. We are truly a non-profit organisation, none of us are being paid and we do this on our own time. There is hope and we can help each other. We have a whole month of celebrations that people are welcomed to come and join," said Ms Wells.