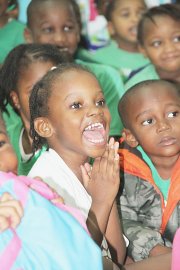 PRE-SCHOOL week continued yesterday as 1,200 toddlers from around New Providence assembled at the Willard Patton Pre-School for a book and literacy fair.
Georgia Robertson, a Garvin Tynes Primary School teacher and chairperson of pre-school week, said the week began with a church service and an opening ceremony.
She said a costume parade is expected to begin at Holy Trinity at 10am today under the theme "A Season of Celebration."
"10 years ago we thought to not only get our colleagues together, but students as well to interact and connect in a show of sportsmanship and camaraderie," she told The Tribune as students sang songs and listened attentively to stories being read.
Joanna Miller Neily, principal of Willard Patton Pre-School, said: "The event today is a part of the Ministry of Education's pre-school activities. All Ministry of Education school students will come together, some 1,200 students, to immerse in literacy activities. They will participate in puzzle activities to learn logical thinking skills and they will 'make a book' because we believe in not just the listening aspect, but the writing aspect as well.
"Every child should be leaving here with a free book," she added.
The Rotary Club of Nassau Sunrise also actively supports literacy at the Willard Patton School by holding reading sessions with the pre-school and grade one classes every Friday.