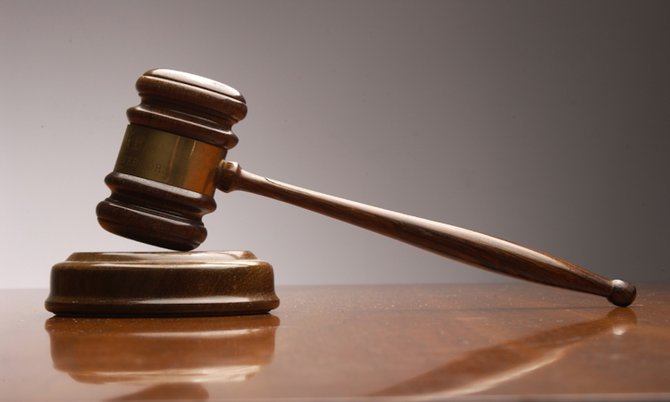 By LAMECH JOHNSON
Tribune Staff Reporter
ljohnson@tribunemedia.net
A WITNESS recalled how an injured man knocking on his door led to him finding the man's girlfriend dead on a beach some 10 minutes away from his house.
Danerio Rahming told a jury yesterday that he looked out of his door's glass frame and saw a man standing there bleeding from his arms and clutching a shirt to his exposed right shoulder.
The man who had knocked on the door of his Adelaide home on the night of November 22, 2010 claimed that he and his girlfriend had been robbed and stabbed by two men clad in dark clothing.
After instructing his sibling to get clothing to assist him in applying pressure to the man's wounds, he asked the man a second time about what had occurred before calling the police.
Rahming said he asked the man for his name and the man answered "Douglas Pratt." He also gave his age.
Pratt sat in the caged dock behind his lawyer, Murrio Ducille, as Rahming gave his evidence on the witness stand.
It is claimed that on November 22, 2010, Pratt intentionally caused the death of 22-year-old Shande Cartwright, the country's 86th murder victim for that year.
On the night in question, Ms Cartwright, who was a client service representative at the Royal Bank of Canada, was found dead at Adelaide Beach with multiple stab wounds in her body.
Pratt, the father of Ms Cartwright's children, was arraigned four days later in connection with the incident.
Rahming, when questioned by prosecutor Sandradee Gardiner, said that the knock at his home came around 9:45pm.
"I asked him his girlfriend's name and he only said 'Shande,'" the jury was told.
Rahming said the ambulance came not long after the police had shown up to look for the girlfriend.
"They (police) didn't find her and they left," he added.
The witness said the EMS personnel took Pratt away.
Rahming said that he had also contacted his brother, a policeman, about what had transpired and that relatives of both "Shande" and Pratt had been contacted.
When relatives of both arrived at his home, he, his brother, and the relatives went to search for Shande who was eventually found.
"It was like a red-skin lady. She was lying on her back and on the right side of her was a blanket, some bottles and a pizza box," he said. Rahming said that looking at the sand's smooth surface and recalling what Pratt had told him at the house, he saw no signs of a struggle to substantiate Pratt's story.
However, Mr Ducille objected to this line of evidence, claiming that Rahming was in no position to give opinion evidence.
The prosecutor disagreed on the basis that Rahming knew the area in question.
Rahming, when asked by the judge, said that having lived on the beach for some time, he was familiar with the surface of the sand. He said the sand was smooth and the tide was low.
In cross-examination, Mr Ducille asked the witness if his client was bleeding a lot.
"He was bleeding enough for me to put clothing on it to stop it from bleeding" Rahming answered.
"He (Pratt) told you two guys in dark clothing robbed and stabbed him and his girlfriend?" the lawyer asked.
"Yes," the witness replied.
"Did he say they took the car?" the lawyer further probed.
"Not at that time," the witness replied.
"Did you refresh your memory before coming to court?" Mr Ducille asked. "Yes, sir," the witness said.
"From the statement you gave to police?" the lawyer asked. Rahming said yes, further agreeing that the statement was given some hours after the discovery.
Mr Ducille said that in his statement he did not mention to police that Pratt had said the car was taken. Rahming, after seeing this, said he did, but claimed that Pratt had changed his story during the occasions he'd inquired about what had happened to him.
Mr Ducille asked Rahming when had Pratt changed his story and after some moments of silence and pondering, Rahming said he could not recall all of the specifics that evening.
Mr Ducille asked the witness if he had taken a searchlight when they went out to look for Shande. Rahming said he had not.
"Were you looking for signs of a struggle?" the lawyer asked. Again Rahming answered in the negative.
"All he (Pratt) told you was that he and his girlfriend were stabbed?" Mr Ducille asked. "Yes, sir," the witness replied.
"He didn't tell you there was a struggle, correct?" the lawyer asked. "No," said Rahming.
The trial resumes today before Senior Justice Jon Isaacs.