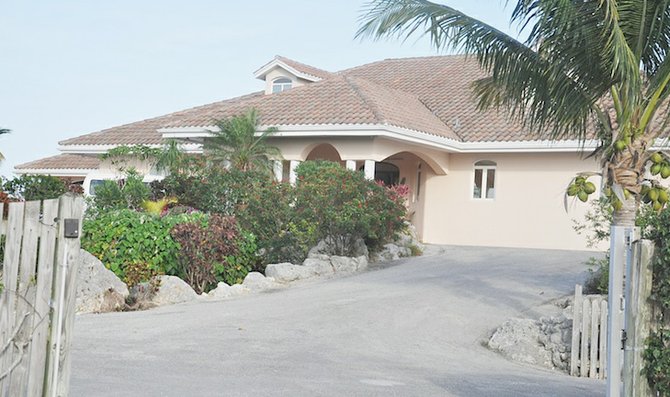 By DENISE MAYCOCK
Tribune Freeport Reporter
dmaycock@tribunemedia.net
FREEPORT – The Dart family had planned to spend the Easter holidays together in Grand Bahama, but that all turned into a "nightmare," one of the seven relatives held hostage by armed intruders on Tuesday, told the London Daily Mail.
Wealthy British farmer Edgar Dart, 56, was brutally murdered in his mother's luxury home in Emerald Bay. Family members, including his 13-year-old son, George, watched in horror as he lay dying in front of them, it was reported.
Dart was shot in the chest during a struggle with the gunman. His death is drawing a lot of media attention in Britain, and in Canada where he has lived for the past 16 years.

Philip Poole, Mr Dart's brother-in-law, was told by his relatives that the entire ordeal was "horrific". He said his 29-year-old son, Pip, was at the residence on Dunton Lane when three masked men broke in around 7am Tuesday.
The suspects were armed with a handgun and a machete.
Also held hostage in the home were Edgar's mother, Joy, 79, and his brother Colin, 55, his brother's wife Alison, in her 50s, and their 15-year-old son, Luke.
There had been unconfirmed reports that police may have made some arrests in connection with Dart's murder, but it could not be confirmed up to press time on Thursday evening.
Calls to ACP Emrick Seymour were not returned.
Mr Poole, 58, told the Daily Mail that pressure must be put on the authorities to stop the killings in Grand Bahama.
"This is the sixth murder they've had there this year and something has got to be done about it," he said.
"We've got to put pressure on the authorities to stop what's happening because it's an absolute tragedy.
"It used to be an island paradise, really idyllic, but it's not like that any more I'm afraid and the authorities have to share in the blame. For our family, it's a dream that's turned into a nightmare."
Mr Poole said the family had planned to spend the Easter holidays in the Bahamas to help Mrs Dart settle back in after the death of her 84-year-old husband, Colin, who died of cancer in December.

"I just cannot believe that something as horrific as this has happened," he said.
After shooting Mr Dart, the robbers tied up the family with duct tape. They cut telephone lines and searched the residence, taking jewellery and other personal items.

Mr Poole said that one of the assailants also attacked and injured his son with the machete.
"Crime is on the increase on the island, but they try to hush it up because it's bad for business. But if they want a healthy tourist trade the best thing they can do is not have it happen in the first place," he told London's Daily Mail.
"If they want to keep the Bahamas as a haven for holidaymakers and retirees and the banking industry, then they've got to get themselves sorted out."
It is not known when the elder Dart, a wealthy Devon entrepreneur, built the home in Grand Bahama. The large residence, located on the Grand Lucayan Waterway, was very conspicuous and could be seen from the Casuarina Bridge.

According to the Daily Mail, the farmer and businessman had made his fortune as a fruit and vegetable wholesaler, packaging pre-washed produce for supermarkets after inventing his own potato-washing machine in the 1950s.
"The house is really quite palatial, with beautiful gardens," Mr Poole said. "Colin and Joy put a lot of time into making the house what it was. They were big friends of the Bahamas."
He said his brother-in-law, Edgar, and Edgar's father, Colin, were "both big men, terrific guys, larger than life figures."
"It's terrible to think about what has happened and what Joy must be going through. Apparently, when the men burst into the house Edgar remonstrated with them. During a struggle the gun went off. The gang then tied everyone up, including Joy and George, and ransacked the house," he recalled.
"Alison managed to free herself and raised the alarm, but nothing could be done for Edgar, unfortunately," Mr Poole said.
Mr Poole reported that Dart's son, George, has left the island with his mother, Adele. They have returned to the farm in Winnipeg, Canada, where Mr Dart had emigrated to 16 years earlier from Topsham near Exeter.