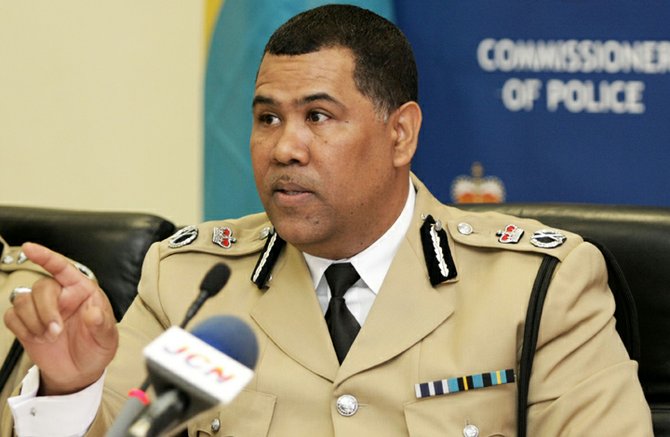 By SANCHESKA BROWN
Tribune Staff Reporter
sbrown@tribunemedia.net
DESPITE a decrease in overall major crime figures in the Bahamas, Police Commissioner Ellison Greenslade admitted that the country is still "in a bad place."
Speaking with The Tribune, Mr Greenslade said the police are doing a "fantastic job" but there are just some crimes that police cannot prevent – especially in an environment where young "angry men" are killing each other over insignificant things.
"If you were to look at the overall crime figures, that is major crime statistics, all of the figures are down. Grand Bahama is down significantly, the Family Islands significantly and also in New Providence. However, what is a reality is that nobody is interested in the reduction of crime when people are still being murdered on the streets of our country, that is the thing that we cannot escape. All of us must recognise that we are in a very bad place," he said.
"The people that are killing each other are known to each other, they are our children, they are from our homes, they are in our communities and they are killing themselves over silly things. We recently had a case where people killed each other over a plate of food. Now while some people are most embarrassed and wish not to speak about it, and I am not going to speak to the particular case in point, but I am telling you some of the insignificant things that lead young men, predominantly in this country, to anger and certainly to the extent of killing each other. It certainly boggles the mind. We have to continue to work to socialise our children; to re-educate our children and hope to goodness that for the next generation going forward we can recover because we are not in a good place."
Mr Greenslade said he is not "God" and cannot tell when and where a crime will be committed, but he can ensure that if someone decides to break the law, they will be punished.
He said: "I am not going to be defensive in respect to anyone that is frustrated and wishes to vent their frustrations on the police department. Any well meaning citizen of this country, any well meaning global citizen would understand that crime cannot be and is not simply a function of a police organization.
"Crime has many root causes and those matters cannot be resolved by a police department. What we do is respond. We are very proactive in many, many instances and yes we have prevented murders and yes we have prevented armed robberies. We have prevented many, many crimes, but I cannot assure you today that if another Bahamian decides within his heart that he is going to be evil, has no respect for himself or anyone else, no fear of the law and decides that he is going to do something like killing another human being, I can't give you any guarantees that I will know who that person will be, where he is and when he will carry out the act. I am not God. I cannot do that."