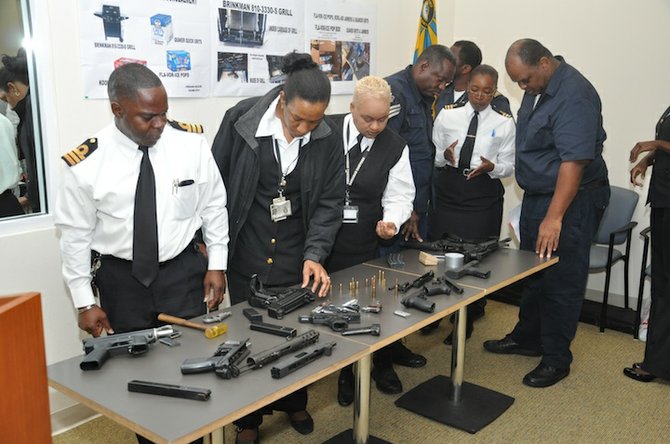 By DENISE MAYCOCK
Tribune Freeport Reporter
dmaycock@tribunemedia.net
FREEPORT – Following a major firearm seizure in Exuma, a Bahamas Customs official expressed concerns about the new smuggling techniques that are being employed by gun smugglers in the Bahamas.
The illegal importation of firearms is a major challenge for Bahamian law enforcement authorities. Guns are used in about 60 per cent of violent crimes in the country.
In the Bahamas, the annual rate of firearm homicide per 100,000 population was 22.2 in 2010, according to an online gun research site GunPolicy.org.

Sherick Martin, assistant comptroller of Customs, stressed that the partnerships between all law enforcement agencies, including Bahamas Immigration, the Royal
Bahamas Police Force, and US Customs and Border Protection, is very important in the fight against illegal gun smuggling.


A firearms demonstration and presentation was held at the Bahamas Customs Office in the C A Smith Government Office Building on Tuesday.

A number of guns seized in Grand Bahama were displayed by the Police Force, including high-power assault rifles, semi-automatic pistols, and AK machine guns.

US Customs official Charles Grind also attended.
Mr Martin said it is important that law enforcement officers are aware of the new tactics that are emerging in the illegal gun trade.
He noted that smugglers are now disassembling gun parts and concealing them in boxes of grits, detergent, and other items.
It was also noted that some gun parts are being passed off as automobile parts.
Mr Martin said officers must know how to properly inspect goods that are being imported into the country. He explained that when examining goods they should take note of the item's weight and make sure it corresponds with the weight on the package labelling.
US customs representative Charles Grind said they will support Bahamian authorities in their mission.

"I think Mr Martin has realized that the best way to succeed here is to get everyone working together and we are supporting his mission," he said.
Many of the illegal firearms smuggled into the Bahamas come from the United States.

Firearms are used in 60 per cent of violent crimes in the Bahamas. While the legal import of firearms and ammunition in the Bahamas is an industry worth hundreds of thousands of dollars, there are no estimates on the worth of illegal imports.
In 2012, police recovered 405 illegal firearms, 99 per cent of which originated in the state of Florida.