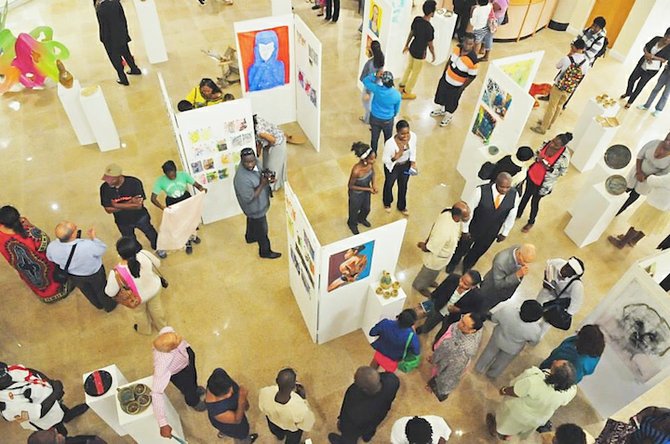 By ALESHA CADET
Tribune Features Reporter
acadet@tribunemedia.net
FOR THE 25th time, The College of the Bahamas' (COB) School of Communication and Creative Arts invited Bahamians to celebrate an evening of visual and performing arts at the Colour of Harmony festivities.
Held just outside the Harry C Moore Library and Information Centre last Monday, the event showcased some of the best works produced by students in music and art at the college.
At the event, two of the College's E Clement Bethel Awards were presented for excellence in the arts; one to cultural icon and leader of the Saxon Superstars Junkanoo organisation Perci 'Vola' Francis and the other to Joann Behagg, an outstanding ceramicist and founder of The Bahamas Chapter of Empty Bowls Arts.
Patricia Glinton-Meicholas, Bahamian Author and Cultural Activist, was awarded with a Lifetime Achievement Award.
As the Head of the Foreign Languages Department and moderator at the event, Christine Diment said the Colour of Harmony has been an outstanding event for years.
"I think that young Bahamians have a lot of talent both musically and with art. The ones who decide to take it up to a college level and specialise in those areas, they have a true commitment. I think they come here with talent and it is always a really exciting show. I've actually purchased for my own house three major paintings by artists whose work I saw exhibited here many years ago now. Members of the public can do that if they find an artist who's work they are interested in. They can contact the artist and commission the work of art," said Ms Diment.
She said the event is very important because it gives the young art students the feeling that their works are worth something, and that they can make a future career out of it.
"This is always an unusual and a very exciting event. I would like to see the audience double in size because it is an event that I always look forward to," said Ms Diment.
Audience members also enjoyed the performances of a piano solo by Nikia Adderley, COB's Concert Choir conducted by Audrey Dean-Wright, Voices of Paradises, Vocal Duet by Ashley Knowles and Jo'Paul Scavella and many more.
Christian Justilien, Head of Visual and Performing Arts and Assistant Professor, said the entire evening was a demonstration of what students have been working on for months.
"It's a celebration of art and music coming together to demonstrate what we have been doing throughout the semester with our students. I believe the students at the college are doing quite well and they are getting a very solid music and art education here and this day proves it," said Mr Justilien.
He said the event is usually very well put together, especially from the stand point of the works of the students.
 "I just wish that we can get a little more support from the community. People may be distracted from other events on their calendar as this is a very busy time of year but I think everyone that does come and attend, enjoys it," said Mr Justilien.