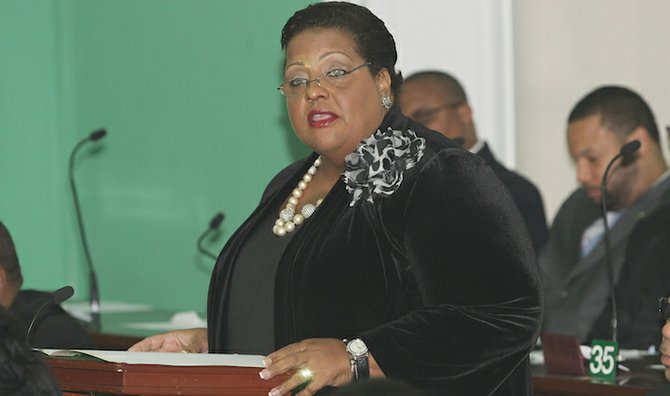 By KHRISNA VIRGIL
Tribune Staff Reporter
kvirgil@tribunemedia.net
FNM Deputy leader Loretta Butler-Turner suggests that a payroll tax coupled with another revenue generation scheme like a national lottery should be implemented rather than the controversial Value Added Tax (VAT).
According to Mrs Butler-Turner a payroll tax could be implemented similarly to the National Insurance Board's contribution system which makes deductions from salaried workers who earn $600 per week or more.
She said yesterday that with a large group of Bahamians falling in that category the government stands to decrease the national deficit while creating a second stream of income. The most recent labour force statistics said there were 195,000 Bahamians in the working class.
Economists have projected that, at five per cent introduction, a payroll tax could yield $190m annually. It is further forecast that a national lottery could generate $231m within the first five years of implementation. VAT is expected to add $200m in the first year.
Mrs Butler-Turner said: "The reason why I would suggest payroll tax is because you can use more modality with that form of taxation. But this government is so hellbent on introducing VAT that they have dismissed the suggestion. 
"We have a large percentage of our population that makes in excess of $600 per week; if we carry out a payroll tax on persons such
persons I think it'll be a sure way to close up the financial gap.
"At the end of the day the government seems to be dismissive of most of the suggestions for alternative tax measures."
In considering a national lottery Mrs Butler-Turner said the millions of dollars spent on illegal numbers could be channelled for the benefit of Bahamians.
"My position is maybe the national lottery is truly something that the government needs to look at. Something like a national lottery can bring enhanced revenue with very little pain and very little disruption to the business community.
"To me I think it gives people an opportunity to take those funds they are spending 24/7 and the Bahamas government becomes the recipient."
While the government still plans to implement VAT on July 1, 2014, tax consultants from New Zealand have advised meeting that target would be challenging.
According to Tribune sources close to the Christie administration's VAT implementation team, the government was advised that the legislation required a three-month window before the new tax can be brought on stream.
Therefore, the movement of any VAT legislation could be delayed as the government still awaits a final report on alternative tax measures from Bahamian business owners.
The report, conducted by the Bahamas Chamber of Commerce's tax coalition, is expected to be presented to the government in mid-May.