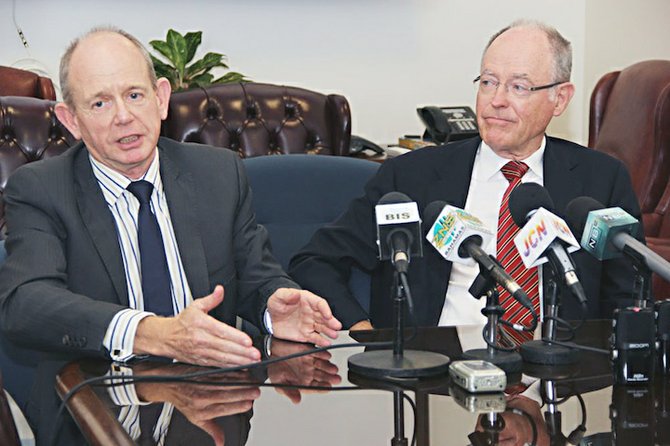 Reader poll
Yes, VAT SHOULD be delayed until April 2015 93%
No, VAT should be implemented on the proposed date of July 1, 2014 7%
59 total votes.
By SANCHESKA BROWN
Tribune Staff Reporter
sbrown@tribunemedia.net
INTRODUCING Value Added Tax to the Bahamas would go "even smoother" if the opposition stands with the government instead of against it, New Zealand VAT expert Dr Don Brash said.
Dr Brash also added that the Deputy Leader of the Free National Movement, Loretta Butler Turner's
suggestion of payroll tax instead of VAT is not the best choice for the Bahamas.
"I noticed in The Tribune that the opposition party is proposing to scrap the VAT and replace it with payroll tax. We strongly feel like VAT is a stronger tax than payroll tax, but in New Zealand every political party in Parliament supports VAT. We feel that is one of the reasons it has been a success," he said.
"Nine months after it came in, the opposition party, of which I was later leader of for three and a half years, that party also said scrap VAT and replace it with another tax. They lost the election. Then they dropped the policy and ever since it's been in total agreement across Parliament for support of the system. It is no longer a political issue. It's worth just saying that here the opposition appears to be saying scrap it. I hope they will see the benefit in a tax where most people see is the least damaging. No tax is a good tax, but it's the least damaging tax. I know opposing is what the opposition does, but I hope they can work with the government on this in order to do what is best."
On Tuesday, Mrs Butler-Turner suggested that a payroll tax coupled with another revenue generating scheme, such as a national lottery should be implemented rather than the controversial VAT.
According to Mrs Butler-Turner a payroll tax could be implemented similarly to the National Insurance Board's contribution system which makes deductions from salaried workers who earn $600 per week or more.
"The reason why I would suggest payroll tax is because you can use more modality with that form of taxation," Mrs Butler-Turner said. "But this government is so hellbent on introducing VAT that they have dismissed the suggestion."
On Monday Michael Halkitis, State Minister for Finance, said that if VAT comes on stream this year it would not be until the last quarter.
However, VAT experts have suggested an implementation date of April, 2015.