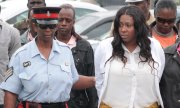 By LAMECH JOHNSON
Tribune Staff Reporter
ljohnson@tribunemedia.net
A POLICEWOMAN was taking $64,000 worth of cocaine to a "boy" whose name she wished not to reveal, a magistrate heard in a trial yesterday.
Inspector Weymond Demeritte, of the Drug Enforcement Unit, testified that while questioning his former colleague concerning the drugs found at Lynden Pindling International Airport, Toni Sweeting gave this explanation, adding that "my brother don't have nothing to do with this."
"He was just sitting there," she reportedly said.
Insp Demeritte was not cross-examined yesterday, however, as prosecutor Anthony Delaney made a request that he be recalled because his testimony could not go further without the evidence of other witnesses being given first.
Murrio Ducille, who represents Sweeting and her two co-accused, was not pleased as he said he was prepared to begin his cross-examination. However, the officer's testimony was stood down to today.
The former constable and her brother, Delano Sweeting, a pageant coach and franchise owner, face four drug charges in connection with an April 19, 2013 cocaine raid at the airport. It is claimed they committed these crimes with Conrad Campbell, who was arraigned a week later.
The Sweetings and their co-accused denied the charges and pleaded not guilty.
All three have since been granted bail, although the former officer's bond was only granted by the Supreme Court last December after the trial did not commence.
In yesterday's proceedings before Magistrate Andrew Forbes, the DEU officer testified that on the evening in question, around 7:45pm, he received certain information that led him to the US pre-clearance lounge at LPIA where he spoke with a woman officer who gave him additional information about Constable Sweeting who he saw in her police uniform.
Insp Demeritte said the officer handed over to him two taped-black plastic packages containing white powder, along with two Samsumg cellular phones.
He then saw and spoke with Cpl Buford King who also gave him two plastic packages containing white powder, along with a Blackberry and Nokia cellphone and three high-end backpacks.
"Detective Corporal King then gave me certain information with respect to Delano Sweeting," the DEU officer said. "I then took both defendants, along with the items mentioned, to the airport police station to be booked in."
The constable was taken to her Coral Harbour home where the woman officer handed over to him a police uniform and a black evidence glove, which he secured in a package. He took the items and Sweeting to the Drug Enforcement Unit where he went on to question her around 11:10pm in the presence of another police officer.
Insp Demeritte said he cautioned her and informed her that she was suspected of conspiring to possess cocaine while at a restroom in the LPIA.
"She replied 'I was taking them upstairs to one boy. I don't want to call his name. My brother don't have nothing to do with this. He was only sitting there,'" the officer claimed.
After asking her a series of questions, the officer said Toni Sweeting declined to give a written statement and also declined to sign the record of the interview.
The following day, the court heard, Insp Demeritte interviewed Delano Sweeting around 12:05pm, and put the allegations to him.
"He said he wished to say nothing," the DEU officer said, adding that the accused also declined to give a written statement and declined to sign the record of interview.
The DEU officer further testified that a week after the airport drug seizure, he and a team of officers acted on a tip that led them to a residence off Carmichael Road where he saw Conrad Campbell, to whom he identified himself because he was cautioning and arresting him.
Campbell's response, according to Demeritte, was "I don't know anything about no drugs. That police girl lying on my name."
The officer added that while being interviewed in custody at DEU, Campbell declined to give a written statement and also declined to sign the record of interview.
Insp Demeritte said that he had Campbell's fingerprints taken on a form which the accused had signed.
Prosecutor Delaney requested to have Insp Demeritte's testimony stood down. This was met by an objection from Mr Ducille who wished to begin his cross-examination. Mr Delaney explained that the forensics examiner who conducted tests in the matter was coming to testify on Tuesday and Demeritte would be recalled following this.
Magistrate Forbes obliged the request and informed the DEU officer that he would be recalled to give his evidence.