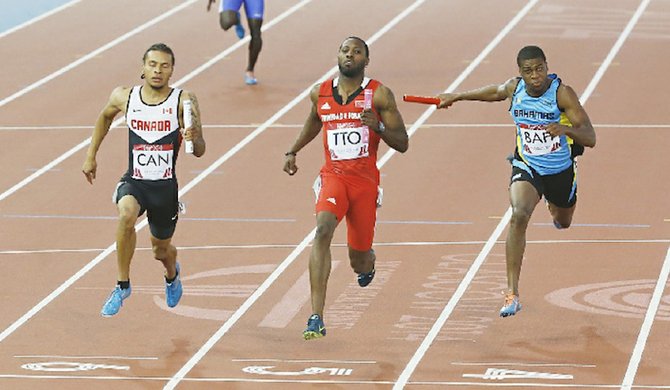 By BRENT STUBBS
Senior Sports Reporter
bstubbs@tribunemedia.net
GLASGOW, Scotland — Had they not bobbled the baton on their first and second changes, the Bahamas men's 4 x 100 metre relay team of Adrian Griffith, Shavez Hart, Warren Fraser and Teray Smith could have been right in the mix for a medal at the 20th Commonwealth Games.
Instead, the difference between the two exchanges was a fifth place finish in 39.16 seconds for the same team that ran a national record of 38.52 to get into the final. They would have needed to run faster than 38.10 that Trinidad & Tobago did for the bronze medal.
The Jamaican team, anchored by triple world and Olympic Games record holder Usain Bolt, closed out the track and field competition by running a world-leading time of 37.58 to shatter the games record of 38.20 that was set by England in Kuala Lumpur, Malaysia, in 1998. England finished with the silver in 38.02.
"At least we got the stick around and we got to finish. Everybody finished healthy so that is a good sign," said Smith, who made his debut on the team after advancing to the semi-final of the men's 200m.
"The good thing is that this team is going to be together for a long time. So I just feel with practice, we will get better. Hopefully we can get a chance next year at World Championships (in Beijing, China)."
Smith, the 19-year-old from Auburn University via American Heritage High School, said it was a pleasure for him to have lined up with Bolt on the anchor leg, something that he will cherish for a long time, just in case he doesn't get to race against him in an individual event.
Fraser, the first Bahamian to reach a final in the 100m at the games since the late Thomas A Robinson, said it was good that they got the national record, but their aim was to win a medal.
"We are all still working together," said the 23-year-old former student of Temple Christian and Clemson State. "We barely got exchanges done until the last minute, so not making any excuses, but it's a process that we have to go through as a team.
"I'm getting more comfortable with the guys, so that's what is important. We just have to keep our heads up in every event. We went out there and we tried to stay as focused as we could. We're looking forward to improving and getting better as we go through this learning process."
Hart, a 21-year-old former St George's student from Grand Bahama now attending Texas A & M via South Plains College, said their exchanges could have used some help.
"Running wise, I felt good. I was comfortable with the team," said the 100m semifinalist. "We had to put the team together by ourselves and practiced by ourselves, so it's hard to practice and tell what we are doing wrong and what we are doing right.
"But I'm proud of what we did because we did this all on our own. But on my exchange, I don't know if I left early. I got out good and I heard him behind me so I slowed down to get the baton. It came down to a trap fly and I ended up running up on Warren because I came up with too much speed. All in all, it was a good race."
As the veteran member of the team, 29-year-old Griffith who excelled at Dickinson State said they had their problems with the exchanges because they didn't have sufficient time to work together.
"Thank God for what we did," he said. "Hopefully the Bahamas can be behind us so that we can go out there and show everybody that we have what it takes to be just like the men's 4 x 400 team or even better.
"For us to make the final here against these great teams showed that we are coming."
Talking about coming, Griffith, who didn't advance out of the preliminaries of the 100m, said when he tried to catch Hart, he left too early. "I was trying to call him, but the crowd was really loud," he said. "When I finally got him, he turned around and that was it."