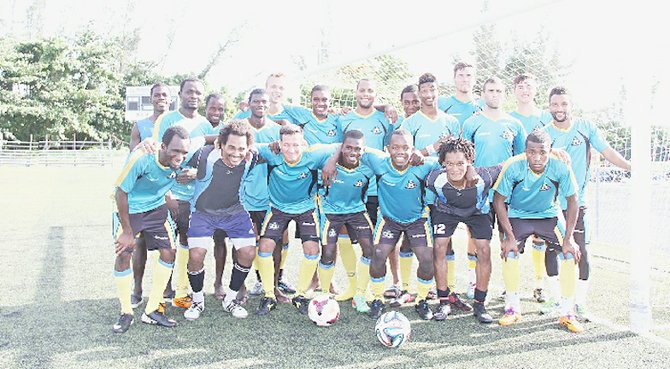 By RENALDO DORSETT
Sports Reporter
rdorsett@tribunemedia.net
ELITE level soccer is set to return to the Bahamas and to the Thomas A Robinson stadium when the Bahamas takes on the United States.
The Bahamas' men's select team will take on the the US men's Olympic soccer team in an international friendly at 8pm tonight.
The Under-23 American side is on a path to focus on early qualification for the 2016 Summer Olympics in Rio de Janeiro, Brazil, after the programme failed to qualify for the London 2012 Games.
For several veteran members of Team Bahamas, they see the match as a welcome opportunity for the men's senior side to take to the pitch for the first time in approximately four years.
Lesly St Fleur, striker for Montego Bay United in the Jamaican Premier League, said he looks forward to playing against such a high level of competition, a rare opportunity in the offseason.
"Every year when my season breaks down in Jamaica I come home to continue to train hard in the summer and get ready for the league, but it feels good to have an opportunity to play this friendly. Nothing changes. Once you take the field you have to go out there and do your work. It's just like a job, you go to work, do your work and get out and that's what we have to do, come out play hard and hopefully we come out victorious, he said. "I hope our guys will be ready for it. By Wednesday we will be on point. They [the Bahamian public] should expect some good quality football from us because we have been training hard for the past couple months and we have been putting our work in and putting things together for the US team so we should see the game played at a high level."
Cameron Hepple, a former professional footballer now forging a career in coaching, said the Bahamas team will represent a wide cross-section of players, ranging from juniors, to collegiate players, to professionals.
"It feels amazing. It's all coming together slowly but it's a great opportunity for a lot of the younger kids. We have a good mix of ex-professionals, college players and good junior players, so I'm just excited to be here and I'm glad this is happening at this time," Hepple said.
"It is going to be a different match. This team is a lot more experienced. We have a lot of college players they are used to this US style of play so we know what we are up against. The only thing is a lot of these guys we are playing against will be a lot more clean and a lot more quality because they are playing consistently. I think we are going to have the home crowd behind us, we are going to be ecstatic and just go out there and enjoy it. There's always pressure, your home fans want you to come out and do well, they want us to win and you want to have a product that people will enjoy watching. I'm confident we will be able to show that and I hope that the Bahamian people come out and support us and cheer us on."
He added that the game can be a major building block in the relationship between the two national programmes as the Bahamas extends its reach as a soccer destination.
"It's a great start to what can be a great relationship. It shows how easy it is for the US to come here and play a match. I think it puts the Bahamas on the map as a soccer destination which is what we are and something we need to push more," he said. "We can introduce more youth soccer tournaments, maybe even possibly bring a MLS team down here. It all depends on the fans and how the fans take on to it. If a lot of people come out and enjoy the game maybe people will start thinking on that level."
USA national teams coordinator Zach Crusse said the international friendly should serve the team well as they continue their path toward Rio.
"It's a beautiful counter, beautiful culture, a world-class stadium and our team is excited to play. This is the first international friendly for this cycle. It's a great opportunity to get the ball rolling. We expect it to be a very good match, very competitive," he said.
"The team is composed of players from all over Europe, all over Mexico, but primarily in the United States. Many of them play professionally and we also have a few that play collegiately, but most are comprised of players from MLS (Major League Soccer), La Liga and a few from the EPL (English Premier League). It's important that they get national exposure and national experience so these types of games are very valuable for them."
Gates at the Thomas A Robinson Stadium open at 5pm.
"We just want to thank the US soccer programme for affording us the privilege to play against this team. It should be a good match and you are going to see some good football," said Bahamas Football Association president Anton Sealy. "There will be festivities prior to the match, so come out early and enjoy the atmosphere. The weather promises to cooperate and hopefully the US team will cooperate as well."