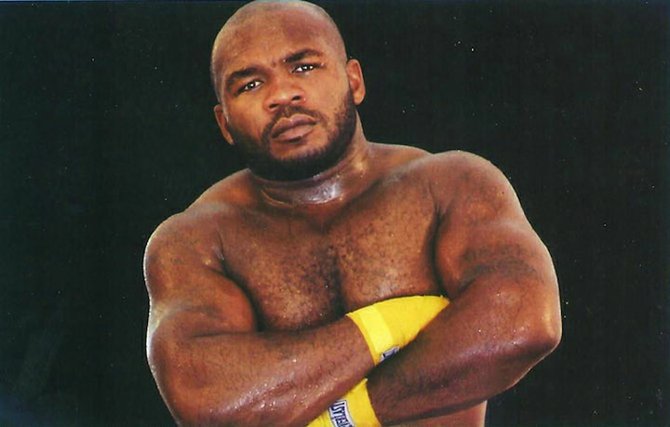 By RENALDO DORSETT
Sports Reporter
rdorsett@tribunemedia.net
Bahamian heavyweight boxer Sherman "Tank" Williams called it a chance at redemption when he learned of his second opportunity to face New Zealand heavyweight champion Joseph Parker for the WBO Asia-Pacific title.
The 41-year-old Williams (36-13-2, 19 KO) will face the 22-year-old Parker (9-0-0, 8 KO) in the headline bout at the Trusts Arena in Auckland, New Zealand, on October 16.
The boxers were originally expected to square off last April in Germany on the undercard of the Wladimir Klitschko and Alex Leapai bout, however it was called off due to disagreements between Williams and the Klitschko camp.
Williams said he wishes to move on from the ugly incident and is focused on training toward his ultimate goal of taking down the New Zealand's top fighter on his home soil.
"For me it brings some justification and clarification of what happened the first time. Despite anything that was said, clearly I did not do anything wrong or that powers that be would not have contacted me to put this fight on again. There was so much negative hoopla surrounding the first time, I just want to thank Duco Promotions for understanding and sticking with me," he said. "I feel vindicated. It fell out not because of my fault. I will fight anyone, anywhere, anytime. Now I'm just set on working and I can focus on training and giving Parker his first defeat."
Since the original bout was called off, Parker has been busy in the ring with wins over Marcelo Nascimento and Brian Minto.
It will be Williams' first bout since he defeated Earl Ladson in November, 2013.
"Since the original fight was scheduled there were some things I picked up on in Parker's last fight that I think I can exploit and expose, so I'm confident going in. I'm familiar with the judges and referees they are going to be using but at the end of the day the WBO Asia Pacific title belongs in my hands. I held it before in 2012 and I'm looking to give a good showing and let New Zealand know the Bahamas has top-class fighters."
The 6'4" Parker will have a distinctive reach advantage over the 5'11" Williams, but the veteran fighter says it is something he has grown accustomed to overcoming over the course of his 18-year career.
He noted that this fight will have added incentive after reports surfaced out of the Parker camp in the local New Zealand media questioning the veteran fighter's fight readiness.  
"He's an up and coming fighter and I have been there. I pray and hope that he buys into that nonsense and overlooks me. I'm a pro fighter, I'm a pugilist. I like to engage in physical contact, I have no fear at all and if that's what they think then I'm looking forward to it. He's on a good run but he's never gotten hit, never hit by anyone like me and definitely has never been hit by the 'conch punch' so there are still a lot of questions with Parker," Williams said.
"My preparation is all I am concerned with. Working on my strength with my overhand right and countering left. He will look to throw a lot of jabs and sidestep so I know what I will have to do for that. From the little we have seen though, he seems to come out with the amateur mentality, to go all out in the first two or three rounds. He doesn't seem to have the best defence and he throws a lot of looping shots so for the first two rounds I am going to pick off his punches and counter punch.
"I am going to overwhelm him with pressure, punches and experience. I don't see any reason I won't have my way with Parker. I have already talked to my manager about taking care of this guy pretty easily and moving forward. I still have a lot of good fights in me, I'm still fighting at a world-class level and I'm optimistic about what this fight is going to bring."
The undercard will feature Robert "The Butcher" Berridge, Dave "Brown Buttabean" Letele and Nik "The Greek" Charalamous.
Williams will head to Auckland and China, August 23, to engage in a five-day media tour to promote the fight. He then plans to stage one week of his training camp in his native Grand Bahama.
"We are working on the final details to make that a reality and I think it is great for Grand Bahama. International boxing media are looking to fly down for camp and it will be the first time since 1981 that an international camp will be held in Grand Bahama since Trevor Berbick prepared for Muhammad Ali, I was a kid back then and I remember that," Williams said.
"The sports tourism scene in Grand Bahama is one of the things that can help the economy. It is a perfect destination not only for boxing but other avenues such as my rugby team in Vero Beach, Florida, and teams in the area that are looking to travel to the Bahamas. Grand Bahama has been in a recession before the rest of the world has been in a recession and as a pro fighter I just want to do my part to put the 'magic' back in the Magic City."